A lunch with variety
This Nandos rainbow bowl is the perfect quick lunch that can be scaled up (as the recipe describes) as meal prep. The 'Nandos rainbow slaw' is cost efficient as we buy pre-packaged coleslaw mix with mayo, enabling us to reduce the ingredient list and costs. 
It's a balanced lunch that you can enjoy for around ⅛ of the cost in comparison to heading to your local Nando's. If you've got room for it in your budget, you could try pairing this recipe with my Nando's peri peri chicken wings
I use freekeh as my grain of choice for this recipe as I love the texture, it's packed full of fibre and it's by far the most reasonably priced in the supermarket. It's a green grain that has a similar texture to bulgar wheat that originated from North Africa/Eastern Mediterranean cuisine.
It's quick, delicious and healthy- make this fakeaway Nando's rainbow bowl ASAP!
Ingredients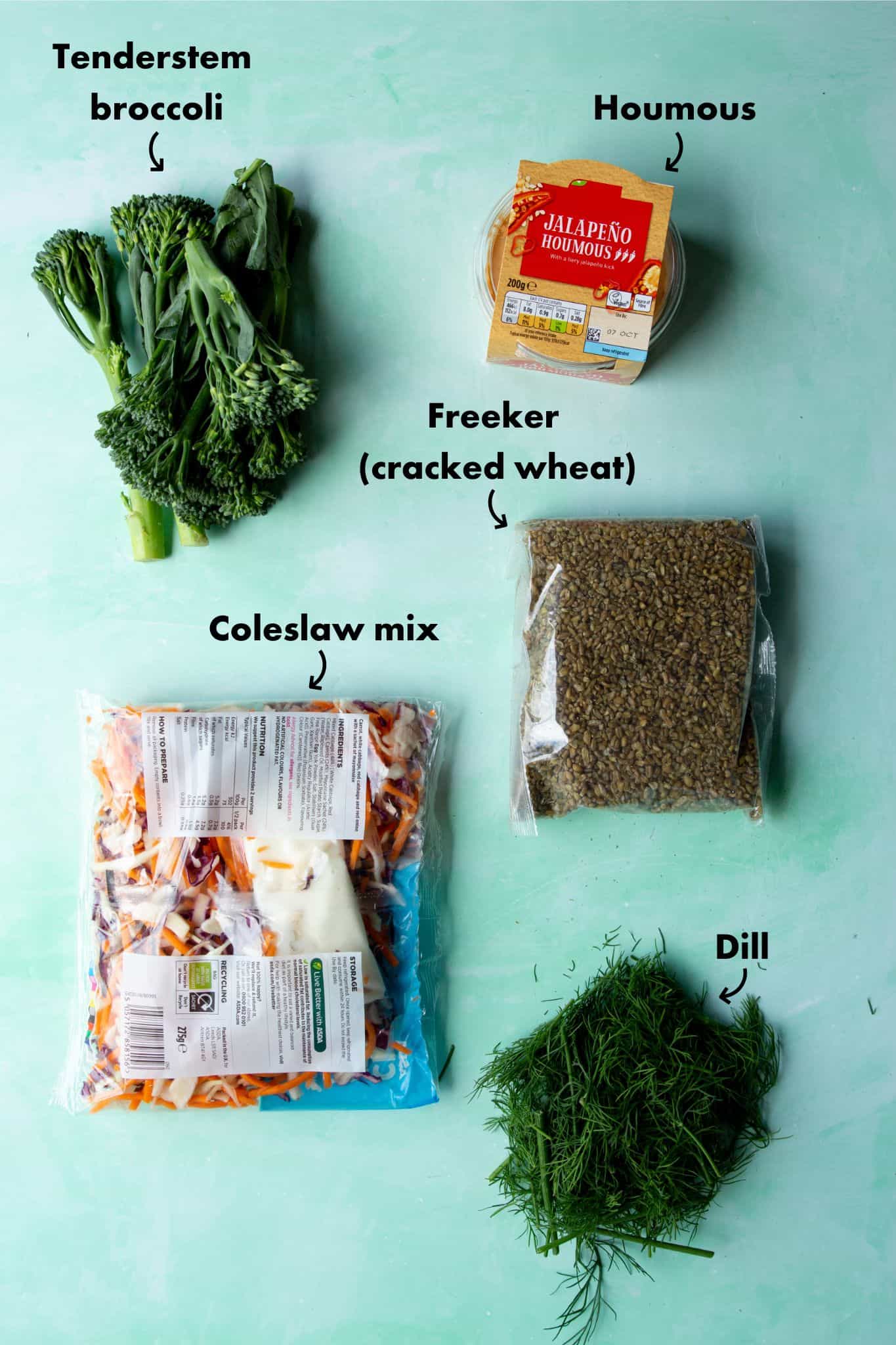 This Nando's Rainbow Bowl is paired with spiced grains and a fresh crunchy slaw. It's a speedy lunch that's great for meal prep.
400

g

Freekeh, rinsed (cracked wheat)

(£2.20)

160

g

(1 pack) tenderstem broccoli (£1.00)

1

bunch fresh dill

(£0.50)

200

g

jalapenos houmous

(£0.69)

275

g

coleslaw mix with mayo

(£1.10)
Note: To maximise freshness if you're meal prepping, cook a half batch of freekeh at a time (half of the above) as well as prepping the broccoli in half batches.

Start by rinsing the freekeh thoroughly. Then, to a medium saucepan add the freekeh, chicken or veggie stock, spices and onion/garlic powder. Stir to combine and bring to a low simmer. Set your timer according to the packet time.

Meanwhile, prepare your broccoli by thinly slicing the rough part of the stalk to allow it to cook evenly. Add all of the broccoli to salted boiling water and cook for 5 minutes. Add to a container.

Serve a portion of freekeh with coleslaw, a portion of jalapeno houmous, creamy coleslaw, broccoli and a sprinkle of fresh dill. Optionally enjoy with mayo or your fave hot sauce.

Drizzle over 1 tbsp of extra-virgin olive oil over each bowl and optionally enjoy with mayo or your fave hot sauce.