The Best Way To Reheat Salmon
Can you reheat salmon? Of course, you can. But knowing how to reheat salmon the right way is a game changer for making that leftover fish taste just as good as the first time. Don't compromise on that delicious flavor and moist texture just because you are eating it the next day.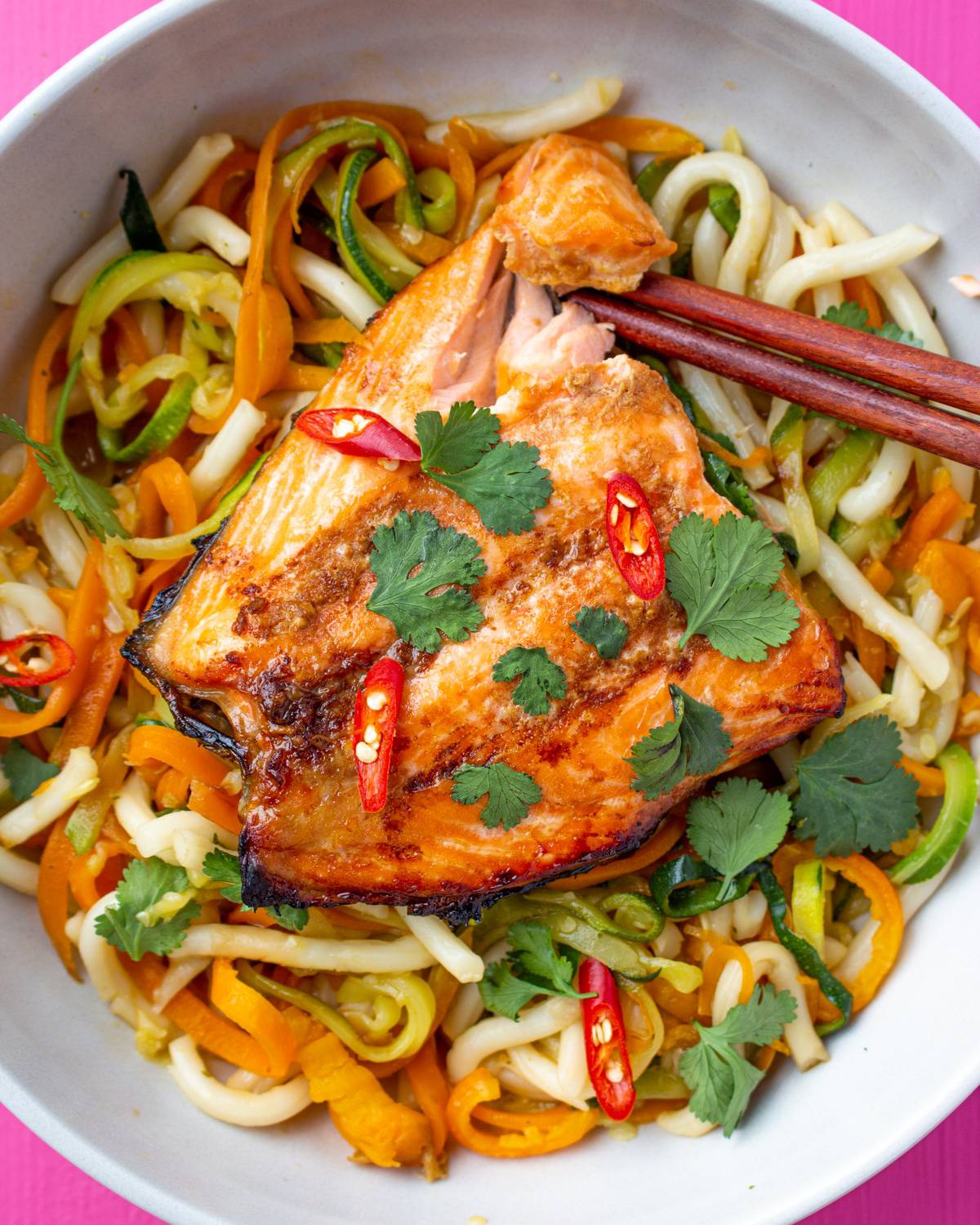 Why you'll love these methods
Keep the Original Flavor: These methods of warming up leftover salmon will help keep that delicious salmon flavor intact, even if it is the next day.
Keep it Tender: Say goodbye to the dried out texture of next day reheated fish because these methods will keep your salmon nice and moist.
Works with Any Type of Cooked Salmon: Any type of precooked salmon will benefit from using these methods of reheating whether your fish was originally baked salmon, grilled salmon, or even smoked salmon.
If you want to make the meal more filling, add a starter and try my healthy soup recipes; Creamy Tomato Basil Bisque, Courgette Soup and Celeriac Soup
How To Store Leftover Salmon
To start, make sure you store the cooked salmon the right way.
Store leftover salmon in the refrigerator in an airtight container for no more than 3-4 days. You will know if your salmon has gone bad if it has a strong fishy odor or smells of ammonia.
You can also store your cooked salmon in the freezer. Use a freezer safe container and when you are ready to reheat, thaw it in the refrigerator for 24-48 hours.
How Do You Reheat Salmon?
If you have ever tried reheating leftover salmon, I am sure you remember it getting dried out and possibly even tough around the edges. So the biggest question here is 'How do you reheat salmon without drying it out'?
The biggest mistakes people make are trying to go too fast. It is easy to reheat other meats in the microwave and have them turn out the way you want. But with salmon, going too fast can ruin that delicate texture.
Here are three things that can help as you as you heat up your salmon:
Use low heat
Cover it up
Think warming through instead of piping hot
How to Reheat Salmon in the Air Fryer
The very best way to reheat salmon is in the air fryer. The beauty of an air fryer is that the hot air is circulated all around the small space. This allows for your food to cook faster and keeps it crisp on the outside. And with an air fryer, you can add water to the bottom to help keep the moisture within the fish.
Step 1: Line the basket with parchment paper or foil.
Step 2: Preheat the airfryer to 180°C (350°F).
Step 3: Place olive oil and a little bit of water on your fish.
Step 4: Place in the air fryer and cook for 4-5 minutes or until the internal temperature is 145°F (63°C).
How To Reheat Salmon in the Oven
The oven is the second best way for reheating salmon. Because the oven is larger than an air fryer, reheating will take a little longer. But using a low heat should keep it from getting dried out.
Step 1: Preheat the oven to 120°C (250°F).
Step 2: Place olive oil and a bit of water on your salmon.
Step 3: Wrap your fish in foil or parchment paper.
Step 4: Place the wrapped fish on an oven safe baking sheet or dish and place in the oven.
Step 5: Bake for 10 -15 minutes or until the internal temperature is 145°F (63°C).
How to Reheat Salmon in a Pan
The third best method for reheating salmon is in a pan on the stove. This method is easy, but takes a bit more work and time, which is why I have ranked it third on the list.
Step 1: Place 1 tbsp of olive oil or another oil in a frying pan.
Step 2: Use the smallest burner and turn the heat to low. .
Step 3: Rub the fish with olive oil on both sides.
Step 4: Place the salmon in the pan and warm through slowly. You may need to put the pan slightly off the heat to keep the pan from getting too hot. This will also help allow time for the center to warm through. Internal temperature should be 145°F (63°C).
This Tuscan Inspired Seared Salmon is a "member exclusive" recipe, join the budget club to grab the recipe!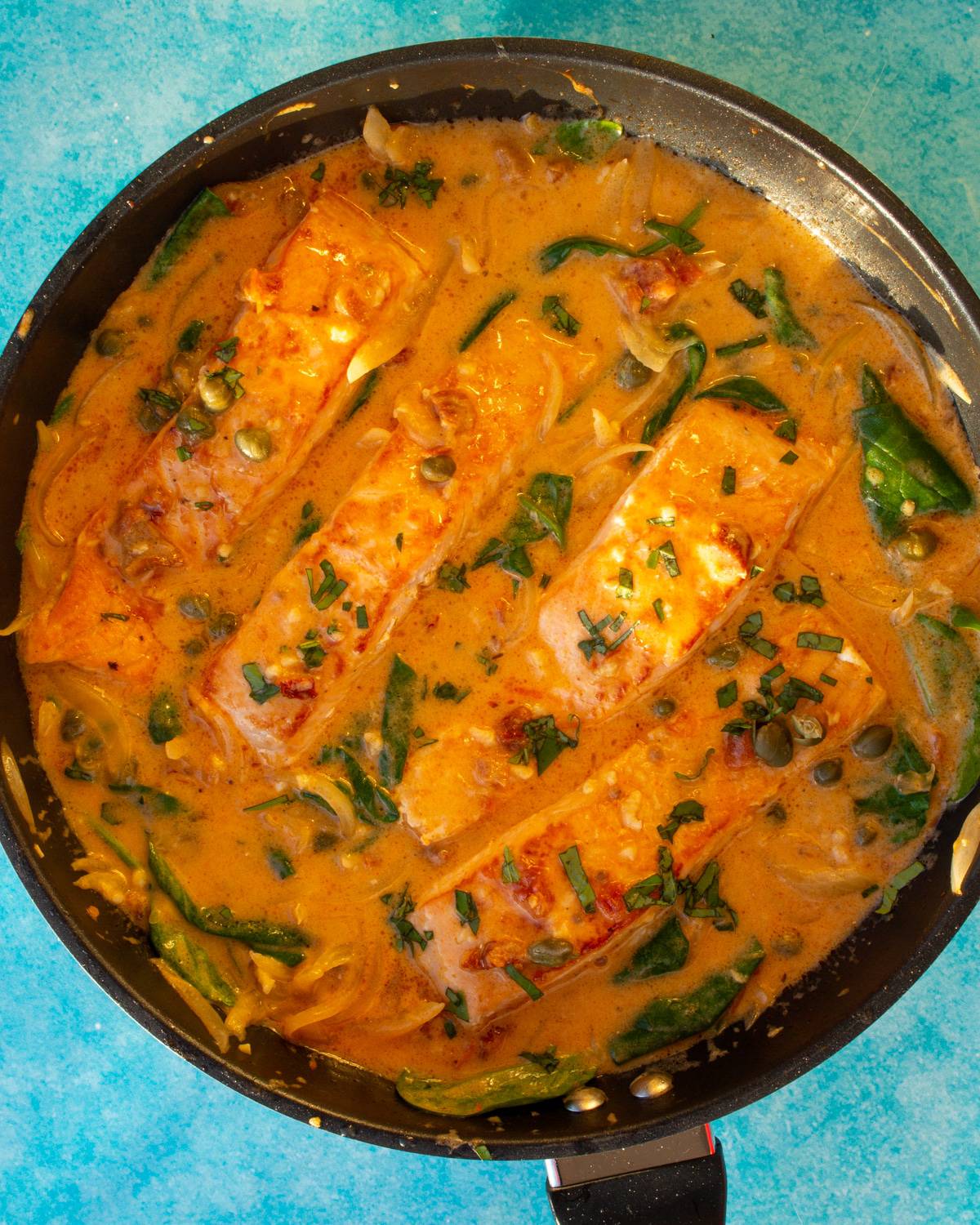 How to Reheat Salmon on the Grill
The great thing about heating leftover salmon up on the grill is that there is minimal cleanup afterward.
Step 1: Preheat your grill to medium heat on one side, around 177°C (350°F). If you have a charcoal grill, then try to place most of your charcoal to one side of the grill in order to heat just one side of the grill..
Step 2: Rub oil on the leftover salmon.
Step 3: Wrap salmon in foil.
Step 4: Place over indirect heat until internal temperature is 145°F (63°C).
How to Reheat Salmon in the Microwave
Reheating salmon in the microwave is probably one of the worst ways, but there are a few things you can do to help keep your salmon tasting good and not getting dried out. Here is the best way to reheat salmon in the microwave.
Step 1: Wrap cold salmon in parchment paper and add a little bit of water. About 1 Tbsp.
Step 2: Place on a microwave safe plate.
Step 3: Microwave on defrost for 30 seconds.
Step 4: Flip and microwave on defrost for another 30 seconds.
Step 5: Check internal temperature. If it is lower than 145°F (63°C)., then microwave on regular power for 10 second intervals until the internal temperature is 145°F (63°C).
Ingredients
Salmon → Frozen Salmon
I use both fresh and frozen salmon fillets. Using frozen fillets helps to reduce the costs significantly, for example you can buy 4 fillets for £3.85.
If you love salmon, try this delicious Viral Salmon Rice Bowl (Tiktok Recipe)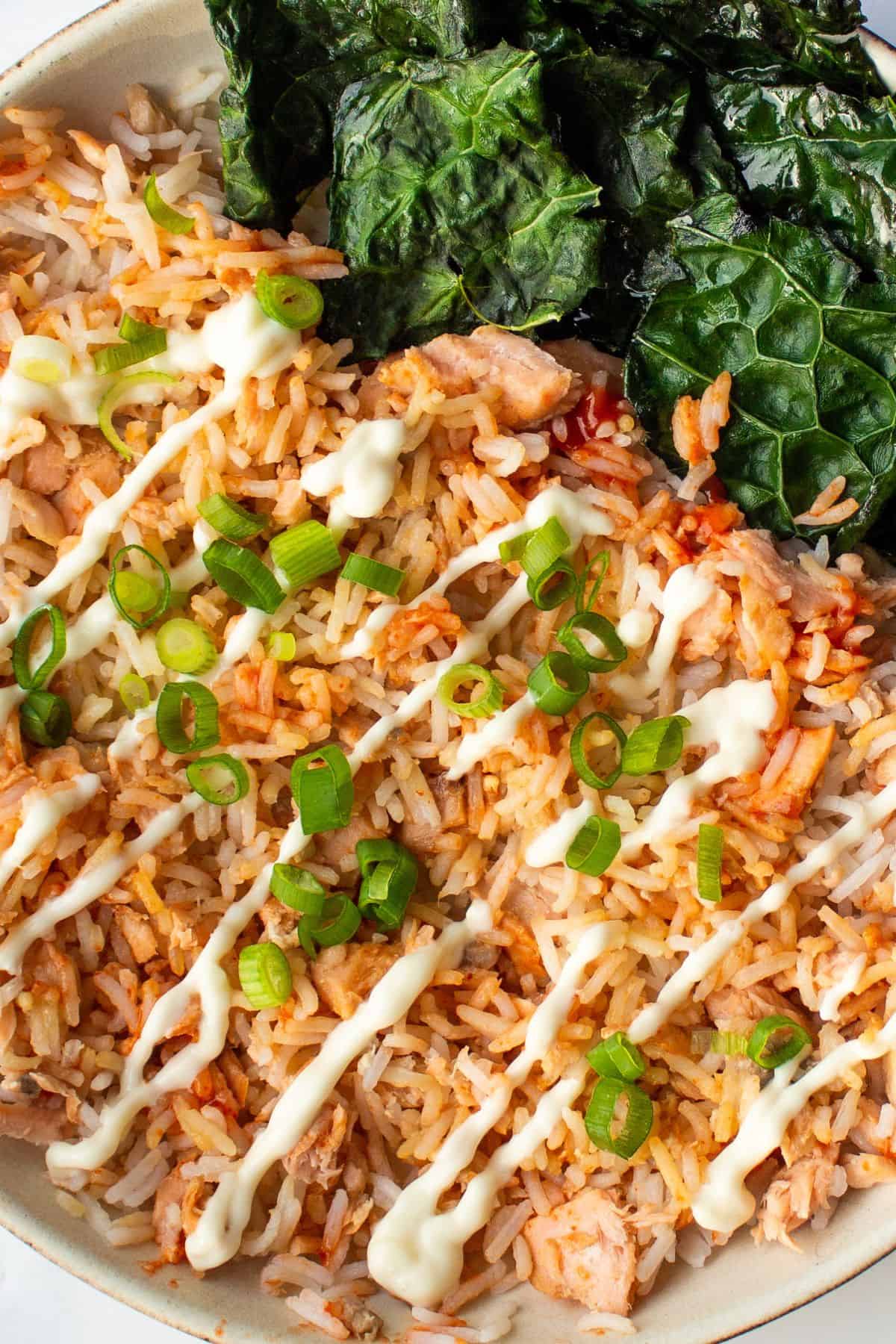 Variations/ Adaptations
Add a new sauce or glaze to your salmon: Instead of sticking to exactly how you ate it last time, try adding a different flavor to your salmon with a teriyaki glaze or asian bbq sauce.
Add some heat: Try adding a kick to your salmon with a little sriracha, hot sauce, or cayenne pepper.
Turn it into something completely new: You don't have to reheat your salmon at all. Add a little mayonnaise to make it salmon salad you can put on a sandwich. You can also add shredded cooked salmon to soup, on top of a salad, or even put it in an omelet. Or just eat it cold. It is delicious that way too.
Try these other tasty salmon recipes ; Soy Salmon Stir Fry with Rainbow Noodles and Salmon Fishcakes
Tips for the best result
Don't Overcook it the first time: Your salmon has less chance of drying out during the reheat process if it was cooked correctly the first time. Make sure you pull your salmon from the heat when it is about 2 degrees under 63°C (145°F). Then let it rest a few minutes so the temperature can come up to 63°C (145°F).
Add moisture: Water can help the salmon steam while it cooks, helping to retain the moisture levels and get the middle of the fish heated slightly faster.
Add oil: Putting oil on your fish will help seal in the moisture that is already there.

Low and slow: Remember that fast high heat cooking methods are the worst way to retain the delicious texture and taste of your salmon. Low and slow are the way to go.
FAQs
Can you eat leftover salmon?
Yes.  Leftover salmon is perfectly safe to eat as long as you store it in an airtight container in the refrigerator and eat it in 3-4 days.
How can you tell if salmon has gone bad?
Salmon that has gone bad will have a strong fishy smell and possibly smell like ammonia.
What is the white stuff on my salmon?
The white stuff that comes out of cooked salmon is called Albumin.  It is a protein that is in the fish and tends to show itself more as the fish becomes overcooked.  Albumin is perfectly safe to eat.
Can cooked salmon be eaten cold?
Yes.  You can eat cooked salmon cold just the same as you can eat cooked chicken or beef cold.