Why this recipe works
This flavoursome crab linguine will instantly make you feel like you're on a summer holiday. It uses simple ingredients to bring you a light and sophisticated dish which won't have you trailing around supermarkets completing the shopping list. It's quick to make and costs only £1.02 per portion! The broccoli, tomatoes, parsley and garlic will provide you with vital antioxidants whilst the olive oil offers the healthiest polyunsaturated fats. With crab I used to think that it would never be a meal that I'd make at home, more something I would enjoy in a restaurant. Thanks to the extremely affordable and delicious tinned shredded crab, we can make it really easily! No need to pay restaurant prices to enjoy the best linguine recipes any more.
Ingredients
Shredded Crab Meat 
The delicious, budget answer to fresh crab meat. The flavour isn't compromised and you can just grab it from your cupboard whenever you're ready to eat.
Linguine
I've chosen linguine over spaghetti here as I feel linguine recipes have more of a summer feel, which this recipe is all about. I also think that the sauce binds to the linguine better than it would to spaghetti.
Tomato Paste
I loveeee a tomato paste/pasta water emulsion. It's so low maintenance with so much flavour.
Tenderstem Broccoli 
Tenderstem broccoli seemed like the best shout here as the stem is also great when sliced and added to the sauce (standard broccoli stems would take longer to cook) If you wanted to further reduce the cost of this mea, you can definitely switch to standard broccoli.
Cherry tomatoes 
A burst of fresh cherry tomatoes added at the end offers a nice contrast to the rich, cooked tomato paste that forms the basis of the sauce.

How to make this recipe
Start by adding garlic, tomato puree and chilli flakes to a deep non-stick frying pan with some extra virgin olive.

Gently fry together on a low heat while stirring.
In the meantime, add your linguine to boiling water with lots of added salt. Once the pasta is half cooked, add your broccoli for the remaining time until the pasta is al dente.

Time to add linguine and broccoli to your spicy garlic tomato puree, mix along with the important 2-3 ladles of pasta water.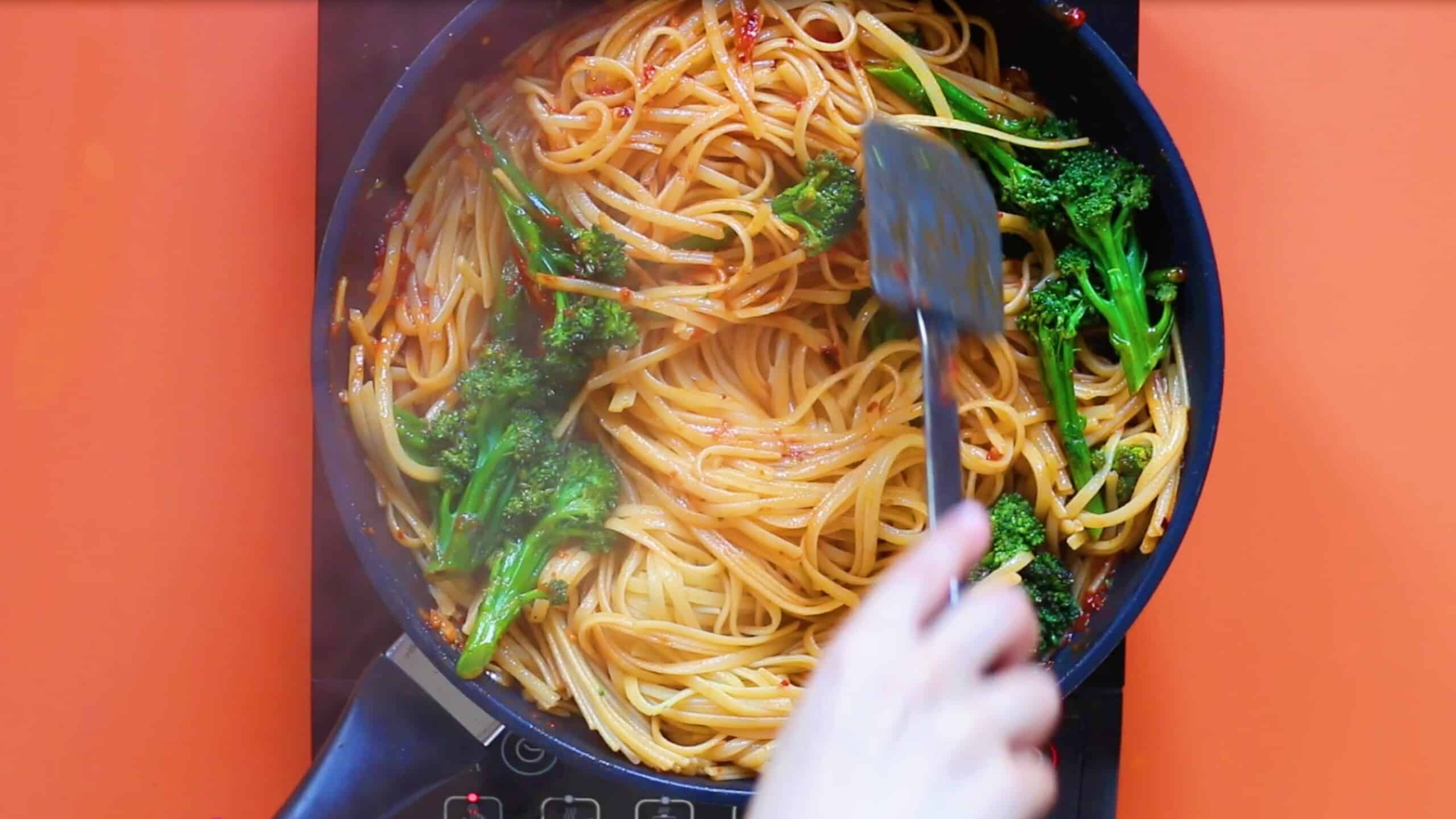 Then add the drained crab along with the sliced cherry tomatoes into the pan and cook for a couple of minutes until the sauce has thickened to the desired consistency (add more pasta water if needed).
Mix together and serve with a squeeze of lemon juice and a sprinkle of fresh parsley. Season with flaky salt and chilli flakes for that added kick and enjoy!
FAQ
Can I use fresh crab?
Yes! Fresh crab that's not served in a tin will usually still be cooked by the supplier so just follow the same steps as the recipe using the shredded/tinned crab meat.
Is crab healthy?
This crab recipe is definitely healthy! Crab is packed full of protein and contains high levels of omega-3 fatty acids. It's also great to incorporate in your diet if you're not usually a fan of seafood, as crab is pretty neutral in flavour and tastes less fishy/strong than other seafoods.
I can only find lump tinned crab, can I use this?
Yes definitely! You can just use two forks to shred the lump crab to get that shredded consistency and I'd say it's fine for most crab recipes.
How to meal prep this recipe
To meal prep, reserve some of the pasta water to add a splash onto each serving before popping in the microwave for 2-3 minutes. Store the fresh parsley separately and garnish right before eating. This recipe is freezable but I'd recommend consuming within 5 days for best results.
Love meal prep?  This recipe belongs to one of my exclusive weekly meal plans found in The Budget Club. Click here to check out what we have to offer!
This budget crab linguine is whipped up in only 10 minutes, is super easy to make and has so much flavour with spice to match
2

garlic cloves, minced

(£0.69/3)=(£0.23)

400

g

linguine

(£0.65)

160

g

tenderstem broccoli, sliced into chunks

(£1.09)

145

g

(1 tin) shredded crab meat, drained

(£2.00)

250

g

cherry tomatoes, halved

(£0.48)

1

handful of parsley, chopped to serve

(£0.50)

1

lemon, cut into wedges, to serve

(£0.59/4)=(£0.15)
Cupboard Essentials
3

tbsp

tomato puree

1

tsp

chilli flakes

2

tbsp

extra virgin olive oil

Salt/Flakey Salt
Add the extra-virgin olive oil to a deep non-stick frying pan on a low heat. To that, add the garlic, tomato puree and chilli flakes. Gently fry on a low heat.

Meanwhile, add the linguine to salted boiling water (heavily salted), setting your timer to the packet time minus two minutes. Add the chopped broccoli into the water half way through the cook time.

When the pasta is al dente and the tomato puree has darkened, transfer the linguine/broccoli into the pan along with 2-3 ladles of pasta water.

Stir the drained crab and sliced tomatoes into the pan and continue to cook for a couple of minutes, until the pasta water has absorbed to a saucy consistency. Add more pasta water if it starts to dry out.

Serve with a squeeze of lemon juice and a sprinkle of fresh parsley. Season with flakey salt & some additional chilli flakes for an extra kick.