6 simple, delicious and cheap gnocchi recipes
Pasta or potatoes for dinner? Why not have both! We've curated the ultimate list of our best gnocchi recipes to date. Craving something creamy and cheesy? Or maybe a lighter version, infused with herbs and vegetable goodness. Crispy pan-fried or softly baked? We cover all bases with this extensive list of mouth watering gnocchi recipes. The ultimate comfort carb, guaranteed to fill you up and keep you feeling cosy this festive season. Whether you choose to make the potato dough from scratch for a fun dinner night in or rather grab a fresh pack from the store for a quick dish, you won't be disappointed!
If you like it crispy….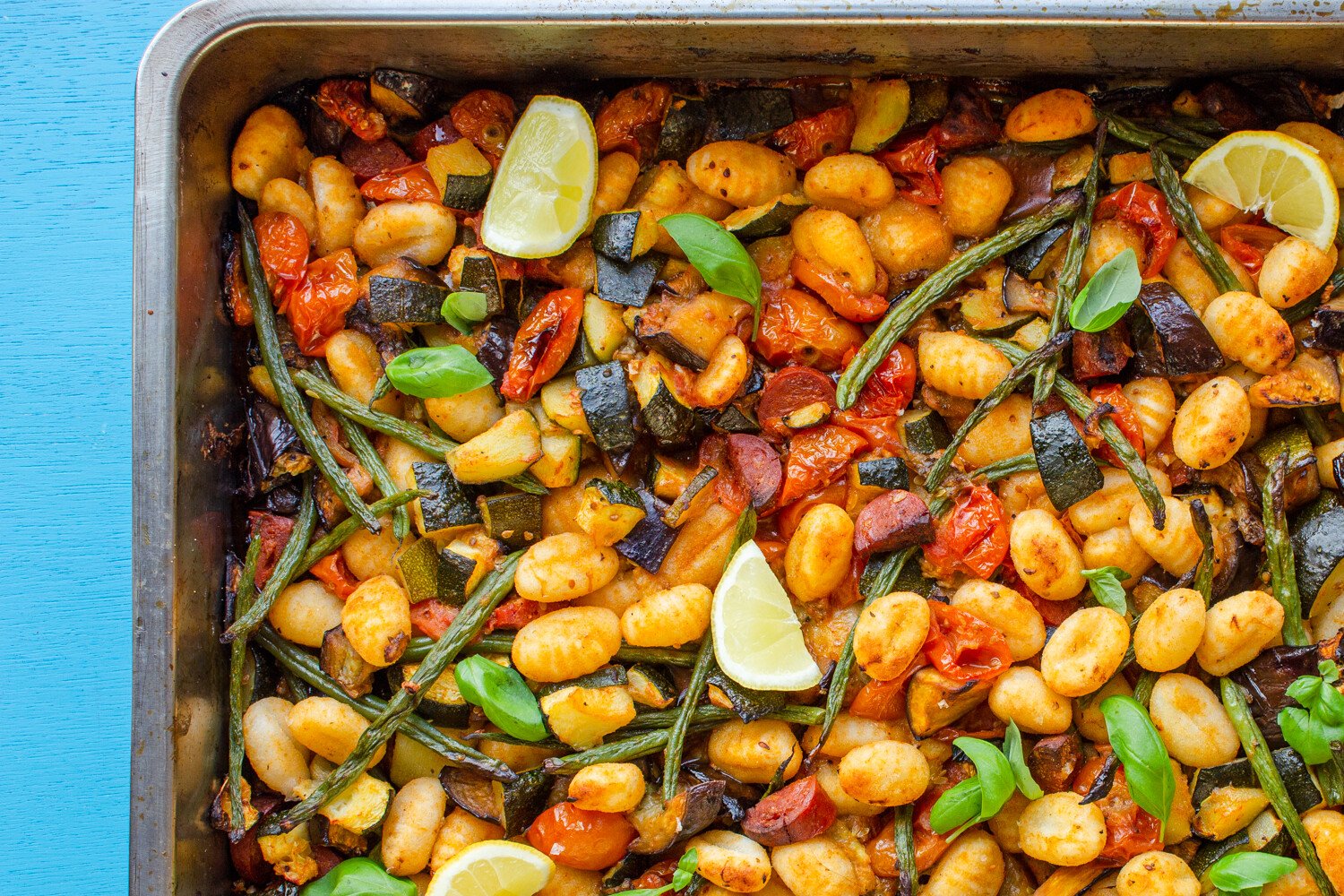 This crispy roasted gnocchi is packed full of vegetables and flavour, with the addition of chorizo for a big flavour boost. This one tray wonder is so easy to make, and a healthier alternative to fried gnocchi. Just throw your ingredients into a baking tray then add the final few half way through and you're done! A crispy gnocchi, roasted vegetable delight.
Get the recipe here
If you love sweet potato…
This crispy pan-fried sweet potato gnocchi is homemade, delicious and packed full of nutrients. Impress your guests by starting from scratch with this deceptively easy recipe. Opting for sweet potato gnocchi not only adds those autumnal flavours but also gives it an undeniably aesthetic look that will make this dish hard to resist. Homemade fried is gnocchi so much better than store-bought- trust me on this one!
Get the recipe here
If you like a cheesy bake…
Who doesn't love a cheesy oven bake! Ditch the tricky lasagne layering and be satisfied with this hearty tray bake. Packed with Hidden Veg this dish is indulgent whilst being deceptively nutrient-dense. Bake in the oven to get that crispy cheesy layer. It's a winner!
Get the recipe here
If you like yours with greens…
If you love your herbs and greens, this gnocchi sauce recipe will be sure to meet your needs. A twist on the classic pesto- we've added in peppery rocket to our sauce with a side of charred courgette to ensure this dish is full of nutrients and flavour. It's packed with antioxidants ,this recipe is so fresh and filling.
Get the recipe here
If you like it super saucy…
For anyone wanting the sauce to take centre stage, submerge your gnocchi in creamy, garlicy, rich flavours. This one-pot Tuscan inspired creamy gnocchi sauce recipe is simple to whip up in under 25M. The browned pork mince, sun-dried tomatoes, courgette and creme fraiche make up the delicious gnocchi sauce. Soo tasty!
Get the recipe here
If you love a nutty dish…
Elevate your gnocchi sauce game with this cheesy nutty favourite! The tangy crumbled feta combined with the walnut crunch makes this dish a guaranteed winner. Requiring only 35 minutes to make and costing 94p per portion, this saucy recipe made up of peppers, walnuts and garlic blended together with some tomato puree is the ultimate comfort fall dinner.
Get this recipe
Want to stick with Pasta? Try out these delicious & healthy pasta recipes:
Creamy Tuna Pasta Bake
Stove Top Meat-Free Lasagne
Broccoli Pesto Orzo
Mushroom Rigatoni Ragu