Simple, Delicious and Cheap Gnocchi recipes
Pasta or potatoes for dinner? Why not have both! We've curated the ultimate list of our best gnocchi recipes to date. Craving something creamy and cheesy? Or maybe a lighter version, infused with herbs and vegetable goodness. Crispy pan-fried or softly baked?
We cover all bases with this extensive list of mouth watering gnocchi recipes. The ultimate comfort carb, guaranteed to fill you up and keep you feeling cosy this festive season. Whether you choose to make the potato dough from scratch for a fun dinner night in or rather grab a fresh pack from the store for a quick dish, you won't be disappointed!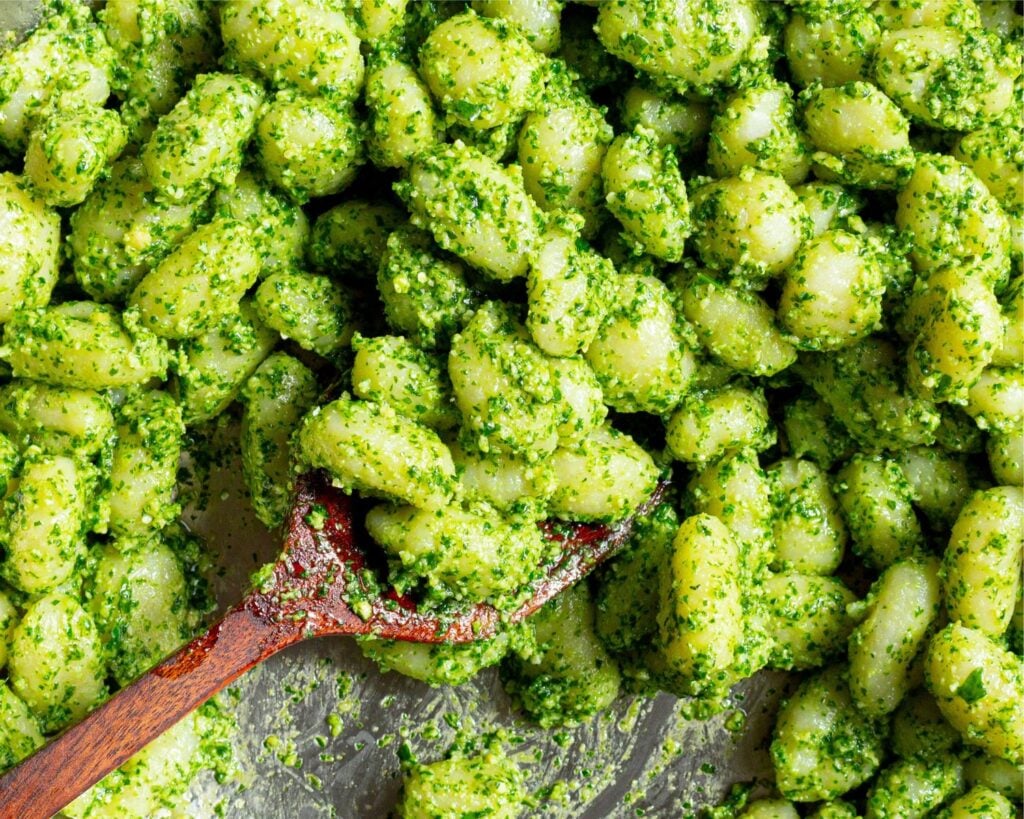 Crafting a delicious Italian recipe like this creamy Tuscan gnocchi doesn't need to be a long, tedious task! This recipe only requires five steps and ten ingredients (plus salt and pepper)!
I love creating one-pot recipes since it means less cleaning up afterwards! Less clean-up means you can dive right into eating this Tuscan gnocchi. This is one of my top recipes with gnocchi, as it includes vitamins and minerals from the included veg (fresh baby spinach and sun-dried tomatoes). Plus, it has protein, carbs, and fibre to help keep you full for longer.
This roasted gnocchi is delicious, filling, and nutrient-dense due to all the veg I've included. It's made with flavourful chorizo, various veggies, lemon, fresh herbs, olive oil, and seasoning. Pair this yummy gnocchi dish with a glass of white wine for a sophisticated dinner.
This roasted gnocchi recipe requires minimal prep time (about five minutes), so it's easy to create on busy weeknights. The rest of the cooking time is primarily the veg and gnocchi baking in the oven, leaving you with free time to spend with friends and family.
This crispy pan-fried sweet potato gnocchi is homemade, delicious and packed full of nutrients. Impress your guests by starting from scratch with this deceptively easy recipe. Opting for sweet potato gnocchi not only adds those autumnal flavours, but also gives it an undeniably aesthetic look that will make this dish hard to resist. Homemade pan-fried gnocchi so much better than store-bought – trust me on this one!
Who doesn't love a cheesy tomato gnocchi bake? Ditch the tricky lasagne layering and be satisfied with this hearty tray bake. Packed with hidden veg this dish is indulgent whilst being deceptively nutrient-dense. Bake in the oven to get that crispy cheesy layer. It's a winner!
This yummy recipe is also vegetarian-friendly, so it's a great option for those trying to limit their meat intake. Even though this baked gnocchi is meat-free, you'll still get plenty of protein from the cheese. Of course, you can always add chicken, Italian sausage, or mince to this gnocchi recipe if you prefer.
This gnocchi alla sorrentina recipe is inspired by the famous Italian cheesy bake and originates from Sorrento, which is a coastal town in Southern Italy. The Sorrentina variations include pasta alla Sorrentina, chicken alla Sorrentina and many more. I decided to develop this variation with gnocchi, as it's the most popular and also I love this way of cooking gnocchi with some element of baking.
Being a gnocchi bake, the rich and saucy tomato gnocchi is taken to the next level with the melted, crispy mozzarella topping which is my favourite component of this recipe.
This fried gnocchi is cheesy, fluffy, crispy, and perfectly cooked, making it a decadent and cosy meal for autumn. It's paired with kale and butternut squash for a hearty yet healthy meal. Plus, it's simple to make, so you'll want to keep this dish in your repertoire.
With the help of an air fryer and a nonstick frying pan, this fried gnocchi dish is ready in less than an hour. Pan-fried gnocchi is an excellent choice when you're short on time during the week yet want a satisfying homemade dish. You can keep any uncooked gnocchi in the freezer for a couple of months, so you can easily whip up the recipe anytime.
Okay so I said I'd give you 6 recipes, but these were too good to leave off the list. Here are 4 more of my favourites.
I love this tomato and mascarpone gnocchi recipe, as it manages to incorporate loads of vegetables, whilst still tasting comforting and indulgent with tomato and mascarpone sauce. It's ideal for a weeknight dinner as the main cook time is in the oven, so you can sit back and relax after work/uni without standing over the stove for an hour. 
The sauce is made with minimal ingredients and little effort. The roasted veggies provide nutrients and flavour, with half of the veg being blended in the sauce. So it's healthy, easy to make and so so flavourful.
This pesto gnocchi recipe is everything you need in a delicious week-night dinner. It takes less than 10 minutes to make, it has so much flavour and requires minimal effort and can be made for meal prep as it reheats really well, or it can be served immediately to family/friends (this could be a dinner party show-off dish)!
There's a slight twist with this pesto recipe as I use rocket/arugula, which creates a delicious peppery contrast that takes this recipe to the next level.
Elevate your gnocchi sauce game with this cheesy nutty favourite! The tangy crumbled feta combined with the walnut crunch makes this Walnut Romesco Gnocchi recipe a guaranteed winner. Requiring only 35 minutes to make and costing around £1 per portion, this saucy recipe made up of peppers, walnuts and garlic blended together with some tomato puree is the ultimate comfort fall dinner.
If you love your herbs and greens, this spinach pesto gnocchi recipe will be sure to meet your needs. A twist on the classic pesto – we've added in spinach to our sauce with cashews, parmesan and basil to ensure this dish is full of nutrients and flavour. It's packed with antioxidants,this recipe is so fresh and filling.