Easy curry recipes you have to try…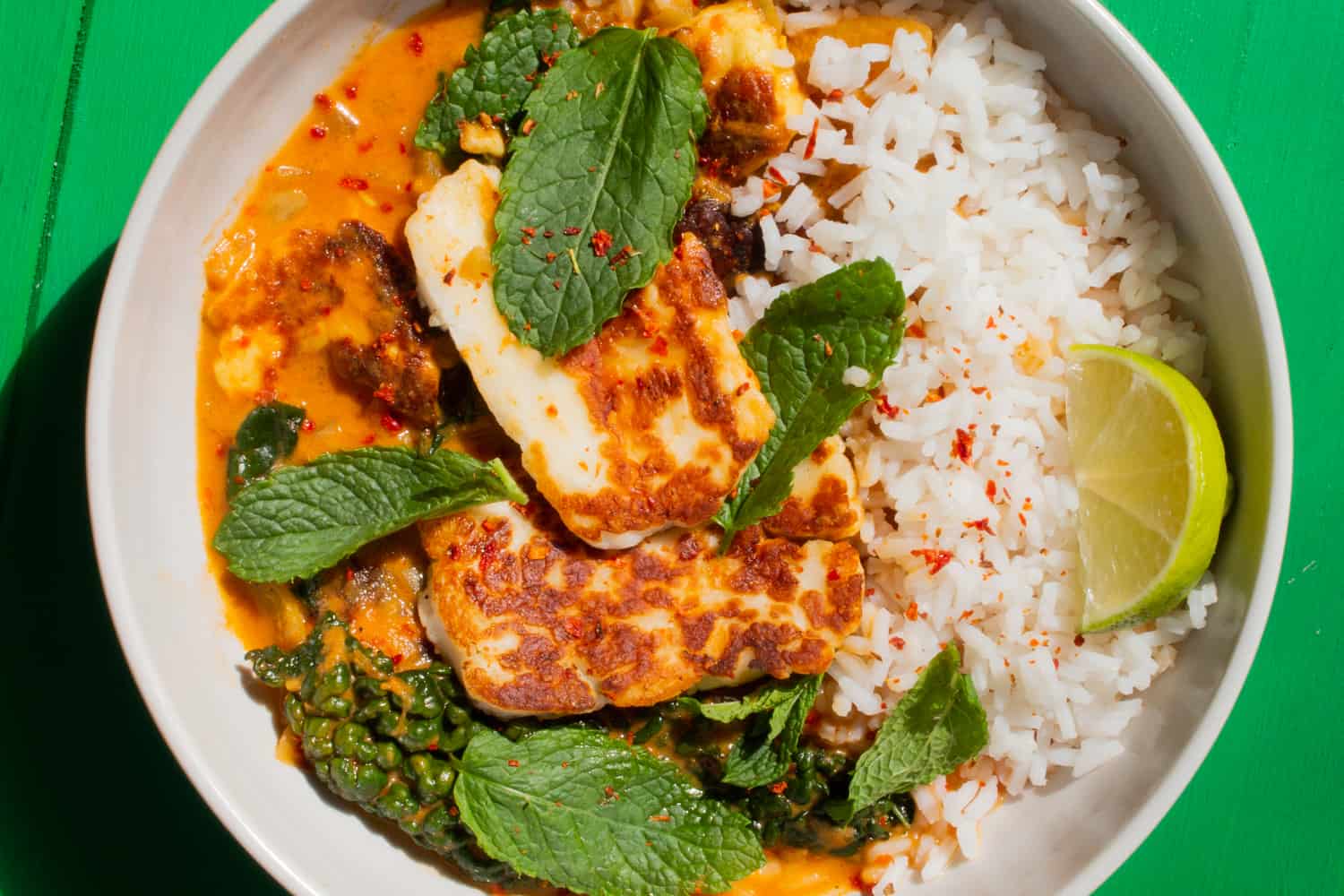 I've rounded up 6 of my all-time best budget friendly & easy curry recipes, so you can have your pick of the bunch! Whether it's a spicy veggie tikka, a rich & creamy halloumi curry or fakeaway wagamama Katsu, we've got you covered. Vegetarian, vegan, chicken or fish, you'll find a curry you connect with. Let these spicy comfort dishes warm you up, as we round up the best curries for those cozy autumn evenings indoors.
If you're craving spice…
Any spice lovers will fall in love with this aromatic spicy cod curry. Packed with vegetables, spices and nutritious oily fish to ensure you're getting those essential omegas, this dish is both healthy and indulgent! This is the hottest curry on this list. It has all the flavour and nutrients to make up a delicious and healthy family meal/or works perfectly as meal prep.
If you're looking for a katsu…
One of the best fakeaway creations! My Wagamama inspired chicken katsu curry will not disappoint. With the crispy breaded chicken being baked, it's lower in calories and just as delicious. This dish will take just 35 minutes to make. Costing just £1.18 per portion, you'll wonder why you went out to eat before!
If you're vegan…
This vegan cashew curry is cheap and easy, with a base of healthy vegetables and it costs just 94p per portion! A satisfying, hearty and mild dish that is filling, while still light. You can easily cater to everyone with a comfort dish that'll make them forget the meat. It's vegan whilst still being creamy and made from only a few ingredients. Delicious!
Or if you're going meatless…
This Vegetarian Tikka Masala can be enjoyed by meat eaters and vegans alike! So nutritious, comforting and full of flavour, it's the perfect fall dish. Filled with vegetables and antioxidant rich spices that your body will thank you for in this cold season. Ideal for meal prep and so easy to make, just chop up the veggies, bloom the spices and make the delicious recipe. Give it a go, vegetarian or not!
Looking for a creamy curry?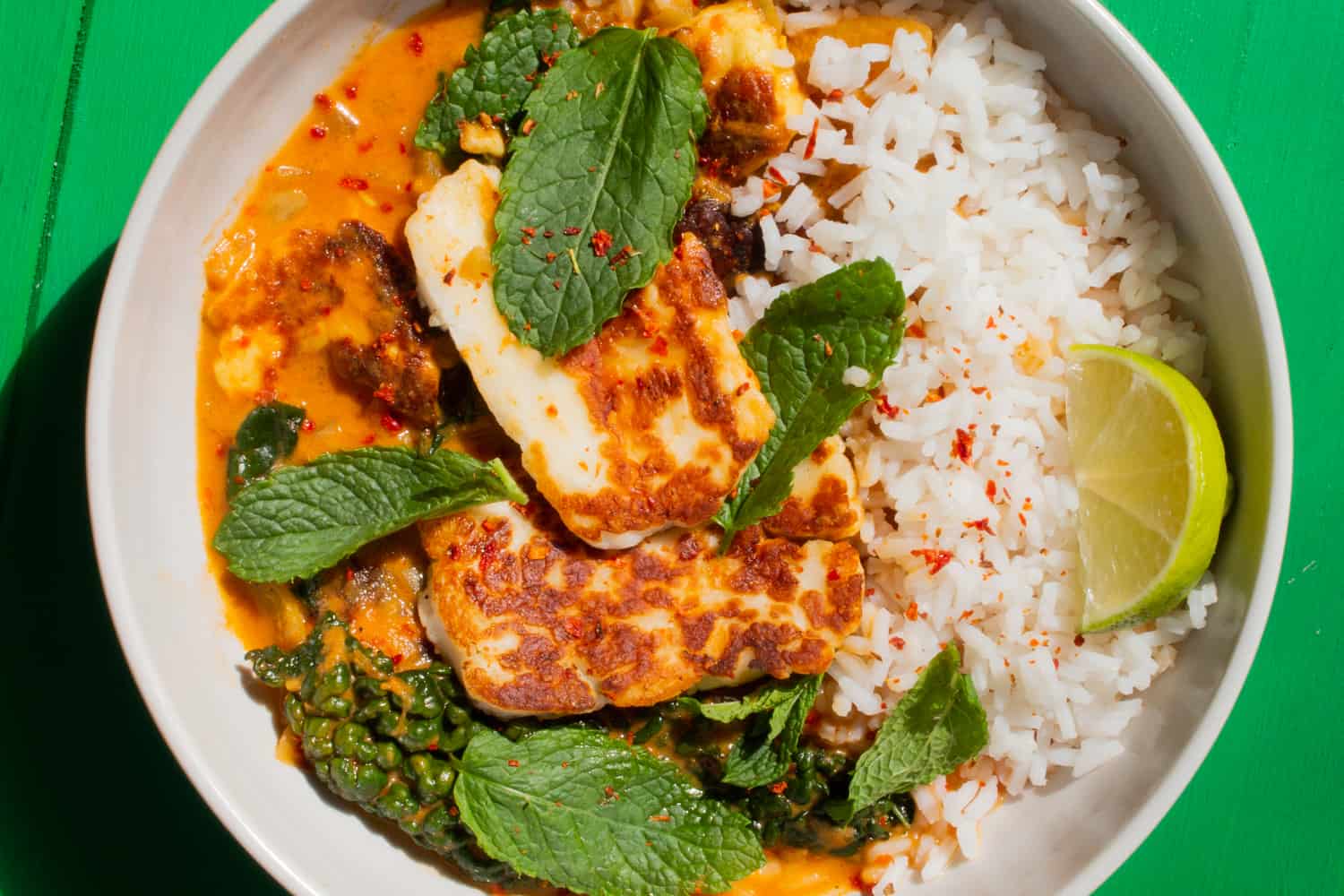 Who doesn't love creamy curries?! I love how the rich coconut offsets the punchy spices to give you a beautiful contrast. Halloumi seems like a strange addition to a curry but trust me on this one – the salty cheese is similar to paneer in its firm texture and is the star of the show with this creamy curry. It's so delicious and such an easy curry recipe to make. With 6 freezable portions, it's great for meal prep. One of my all time favourites and perfect if you're searching for a milder curry recipe. It's one of the most popular recipes on Beat the Budget – give it a go!
If you're looking for a fish recipe…
For pescatarians or anyone wanting a lighter protein, try the Cambodian inspired "Amok" fish curry. This aromatic dish is easy to make and ready in around 30 minutes. Use basa fillets and add blended the turmeric, garlic and ginger to the coconut milk for the delicious sauce. So yummy!
Fancy noodles instead? Try these recipes
Stir-fry Pork Udon Noodles 
Peanut Noodles with Roasted Soy Vegetables
Gochujang Turkey Noodles
Vegetarian Satay Noodles