Ingredients
White onions 
We go heavy on the onions in this recipe, with a fine dice to flavour the dahl without having the onion detectable in texture. 
Red Lentils 
One of my fave staple ingredients. I use dried red lentils but you could reduce the cook time by using cooked/canned lentils. Be sure to reduce the stock though as the dried lentils absorb the stock as they cook. 
Garlic 
Looooads of fresh garlic here. If you have to, you can use garlic granules (around 1.5 tsp). But fresh garlic is best here! 
Ginger 
This ingredient is an absolute must! It adds a zing to the dahl which is one of the most flavourful elements of the dish. 
Carrots
Carrots aren't traditionally in dahl recipes, but I think it adds nutrients, volume and flavour. Plus a burst of colour. Make sure you thinly slice the carrots to ensure they're perfectly soft/cooked for eating. 
Chopped tomatoes 
You can sub the chopped tomatoes with tinned tomatoes or passata if you don't have chopped. 
Coconut milk 
The rich & creamy element to this dahl comes from the coconut milk. I'd recommend using full fat coconut milk as the dish is already low in calories, so we want to go with the more nutrient dense & flavourful coconut milk. We have the coconut milk to thank for this recipe being a creamy vegan red lentil dahl. 
Coriander 
Adds brightness, flavour and texture. You could substitute it with mint or parsley. 
Mini Naan Bread
I love buying mini naan breads as they're perfect for meal prep with individual portions.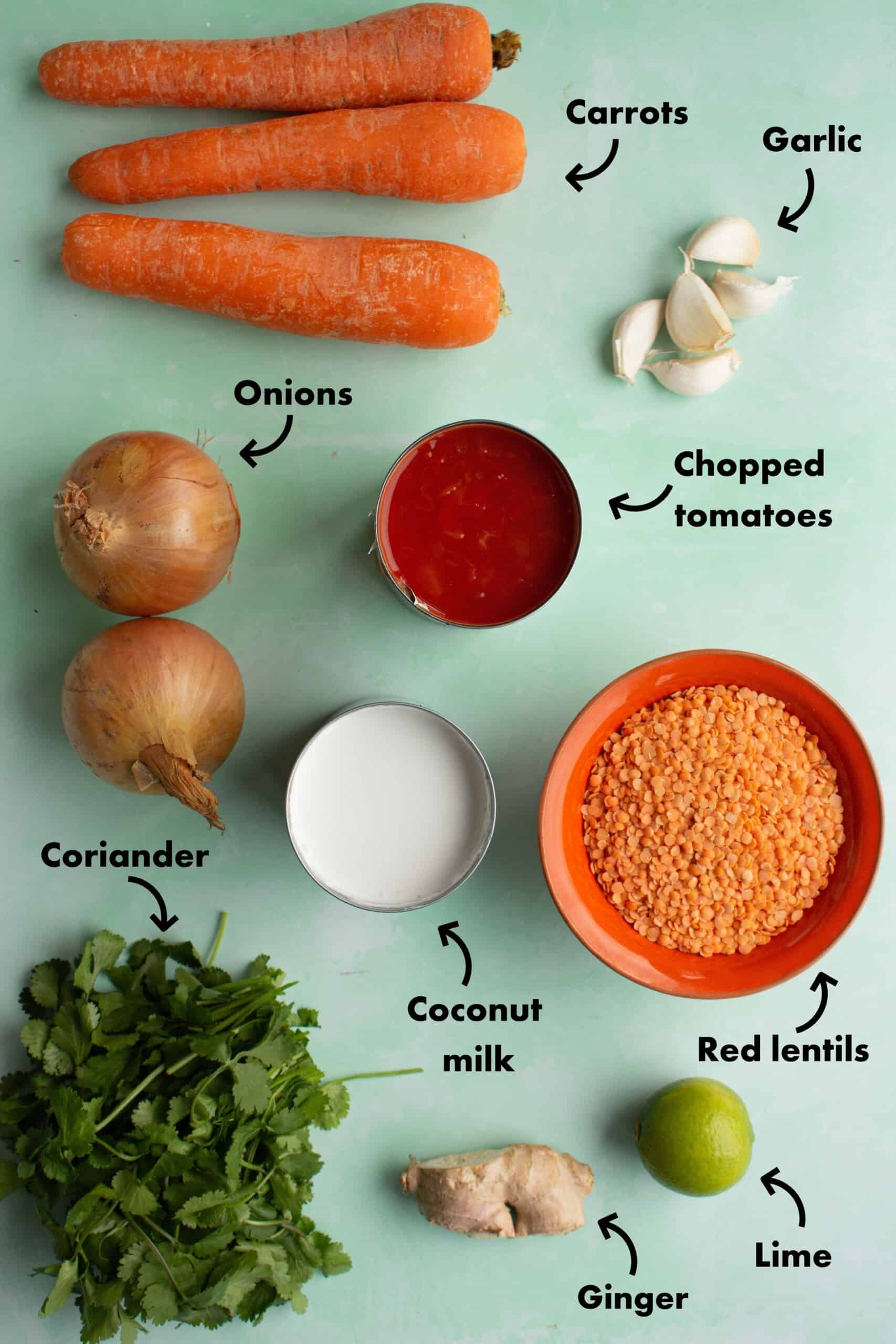 How to make this recipe.
In a large saucepan,  fry the onions with a tbsp of coconut oil/olive oil and a generous pinch of salt for around 5 minutes until translucent.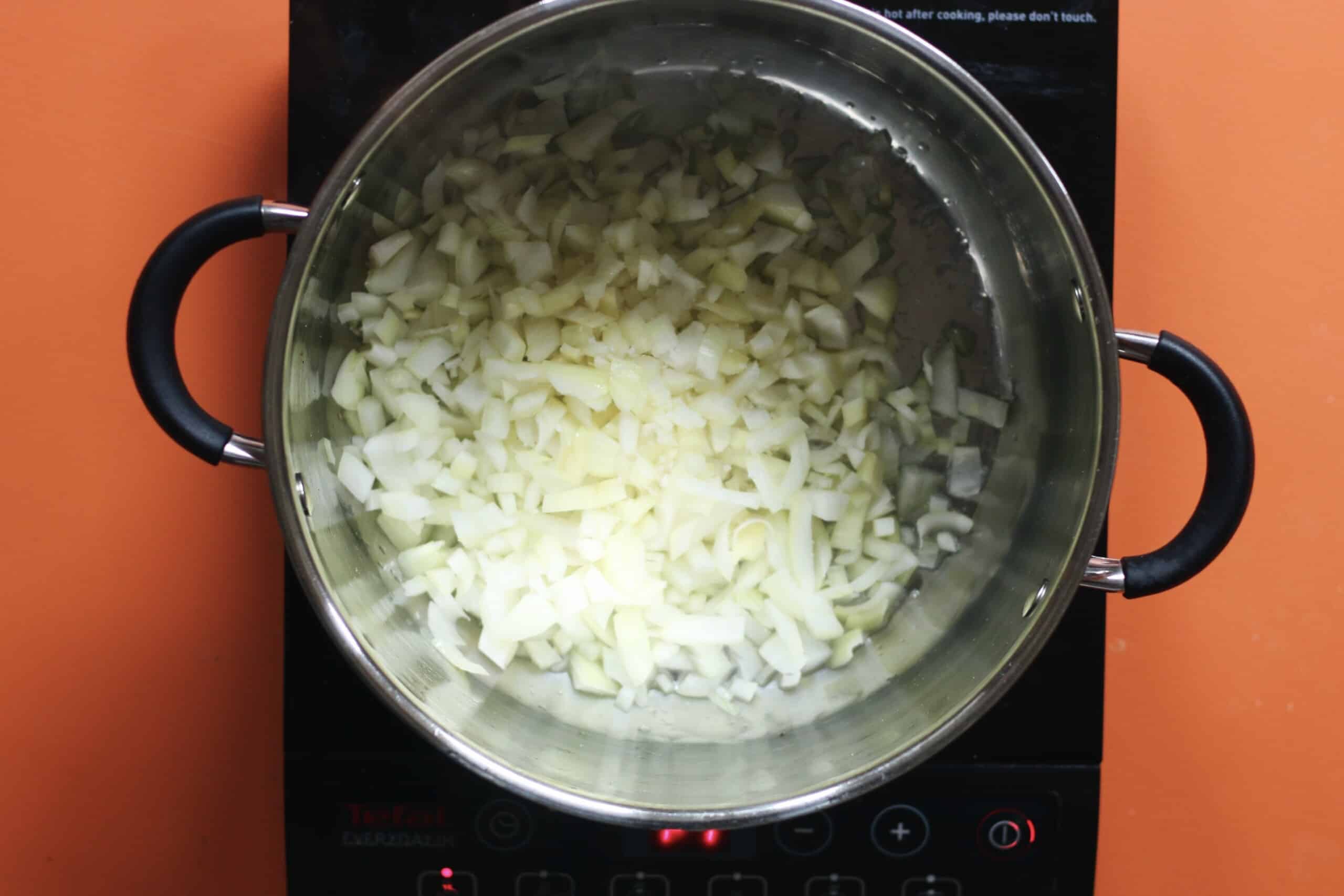 Once the onions are translucent, add the garlic, ginger, coriander stalks, carrots and spices.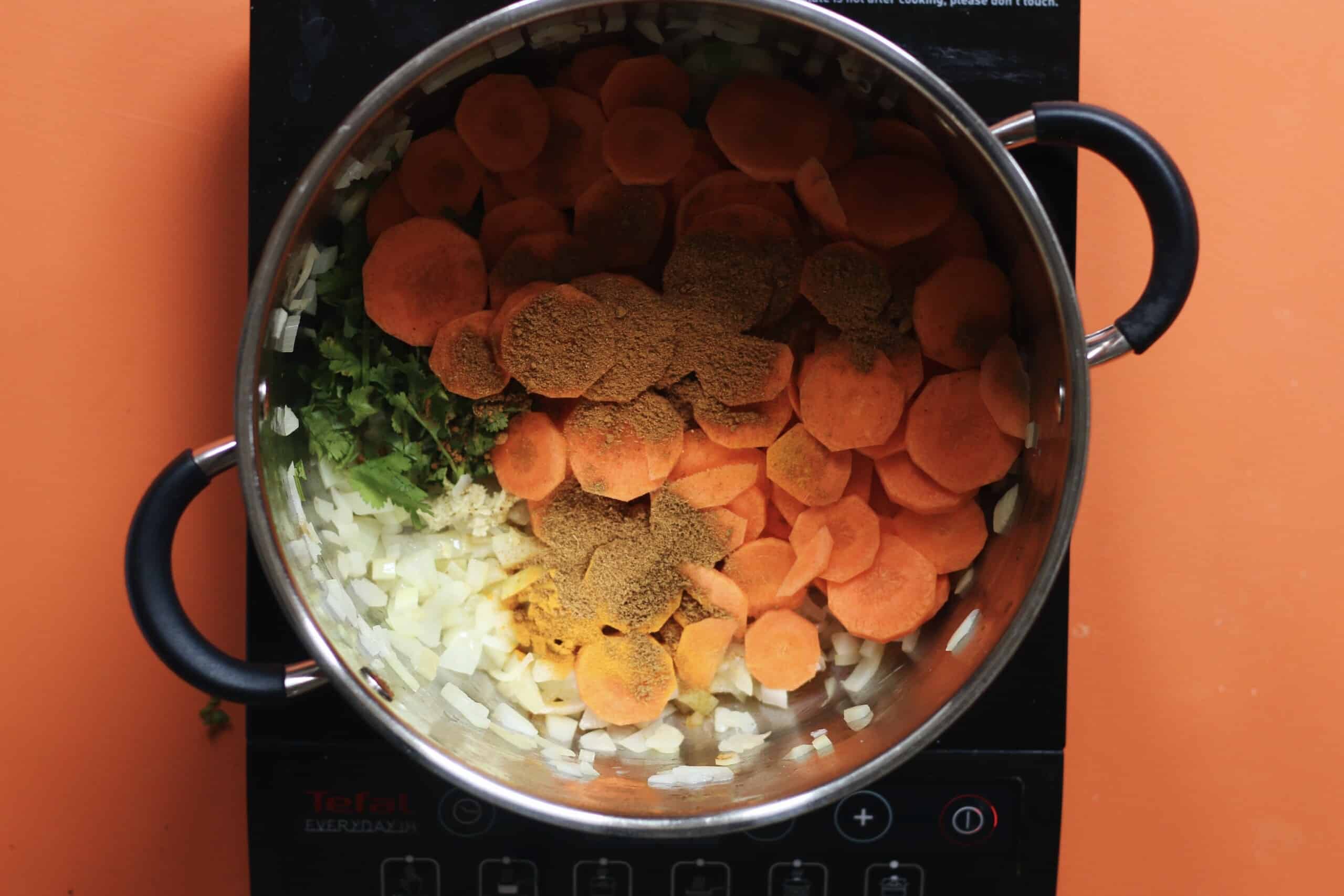 Stir to combine and simmer on a low heat for around 30 minutes. Add salt to taste.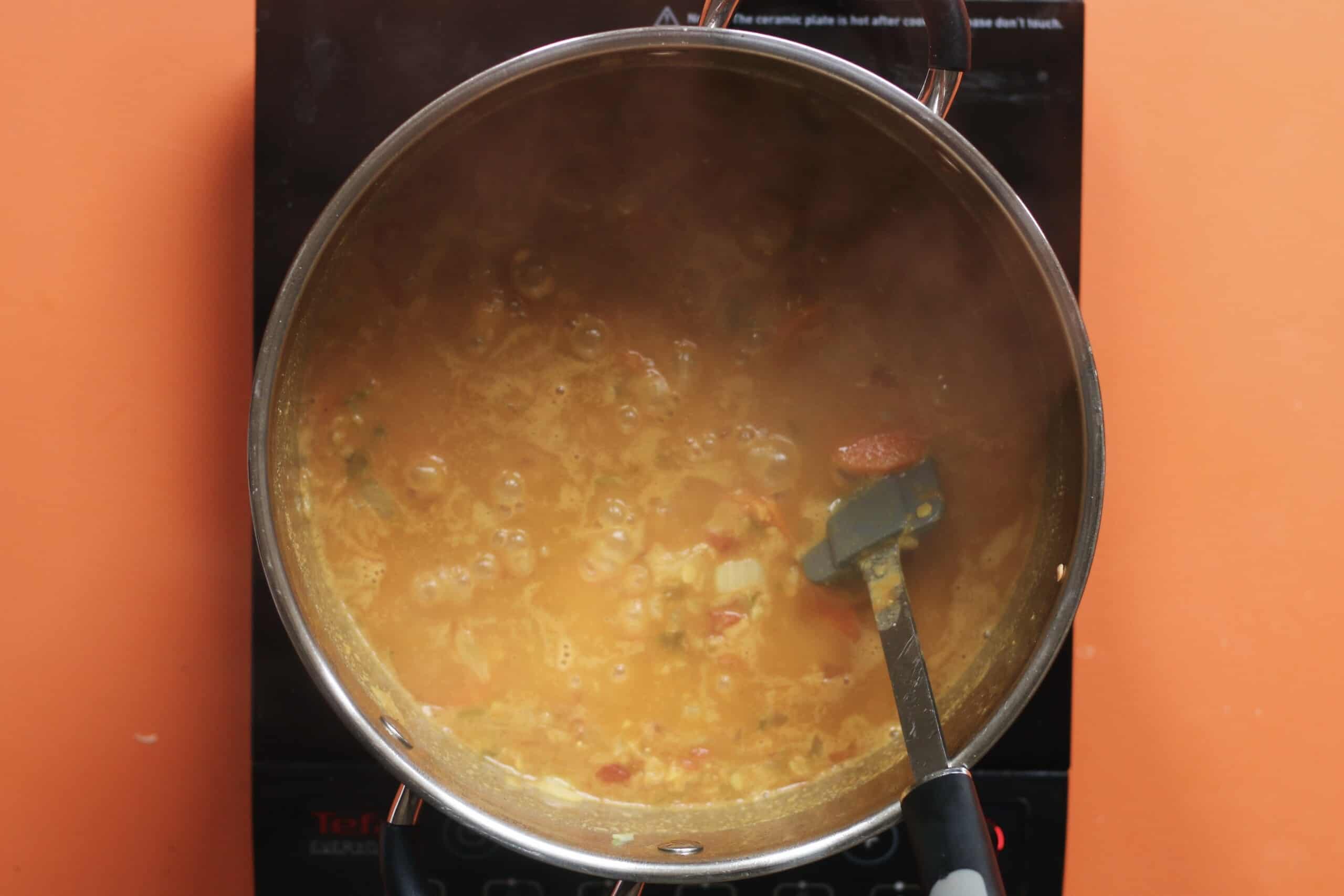 At the juice of half a lime and some coriander and stir.  Serve each portion with a sprinkle of fresh coriander and a squeeze of lime.  Optional : add a swirl of yogurt.
Why this recipe works
This red lentil dahl recipe is one pot, made in 30 minutes and requires minimal effort and ingredients.
I've simplified the spices to ensure that anyone can make this and grab the common spices they have in their cupboard.
It's the best dahl for simple & easy meal prep. It's perfect to warm up the cold nights & to get cosy. There's also minimal cleaning as it's all whipped up in one-pot.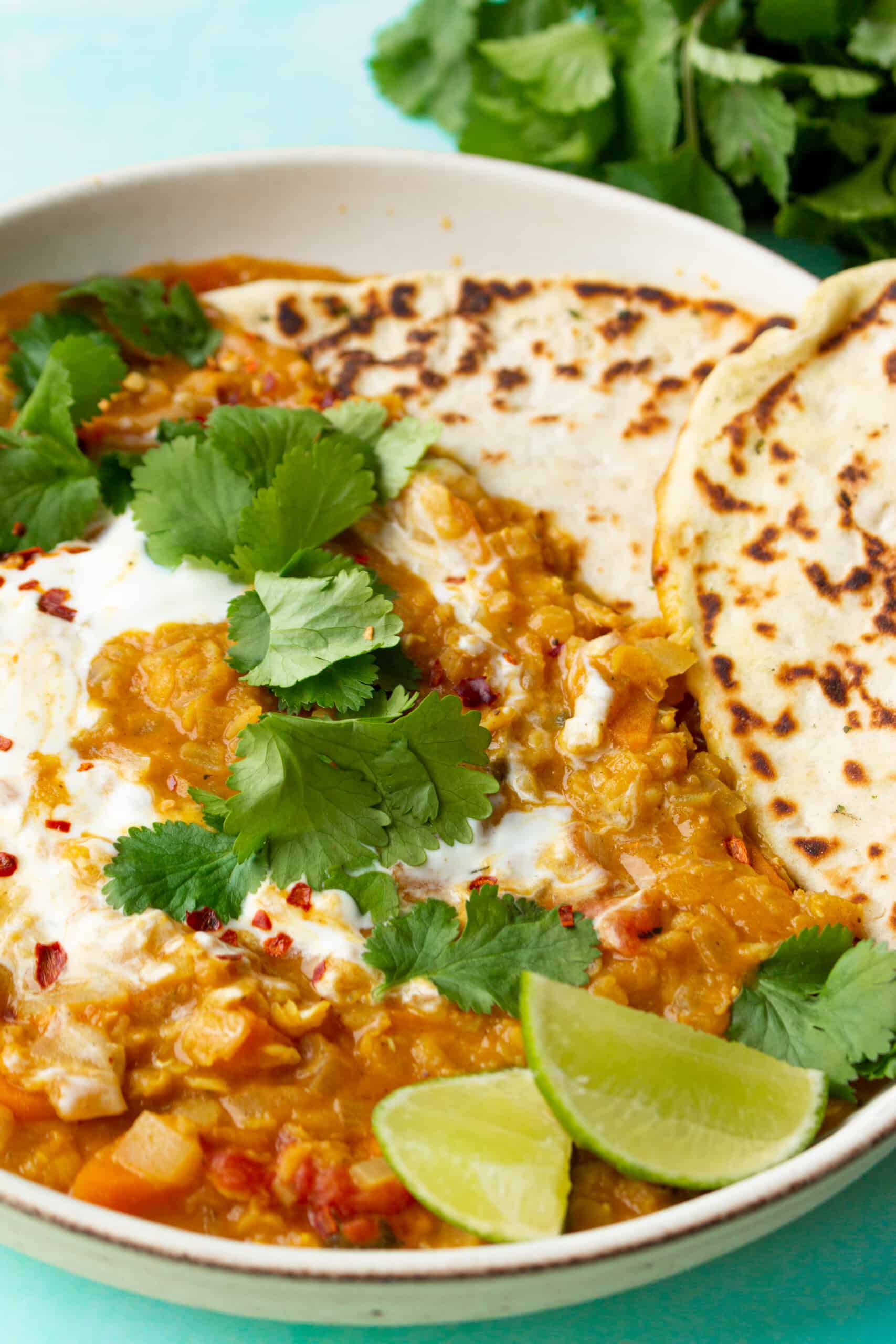 What is dahl?
Dahl, daal or dhal, is an Indian dish, with the main ingredient being a specific type of lentil/ pulse that is split. When referring to a dahl recipe, this is in reference to the dish where the pulses (usually a split type of lentil) are cooked and broken down into a sort of stew/curry. It's flavoured with spices and herbs and often paired with coconut milk.
What do you eat with dhal?
You can enjoy this red lentil dhal on it's own, pair it with naan bread as I have, or serve with white or brown rice. Luckily if you don't have any of the side dish options, it's filling and flavoursome enough to enjoy on it's own.
I love adding a swirl of unsweetened yogurt (greek yogurt or natural yogurt) with my dahl as it adds a contrast and tanginess which really elevates the dish.
Is lentil dahl good for you?
This dahl is such a healthy red lentil recipe. The red lentils are rich in vitamin B and iron, whilst also being a great source of plant-based protein and fibre.
The coconut milk is rich in healthy fats and the carrots are packed full of vitamin A. It's an amazing vegan lentil recipe to add into your rotation not only because it's healthy, but also to cut back on your meat intake.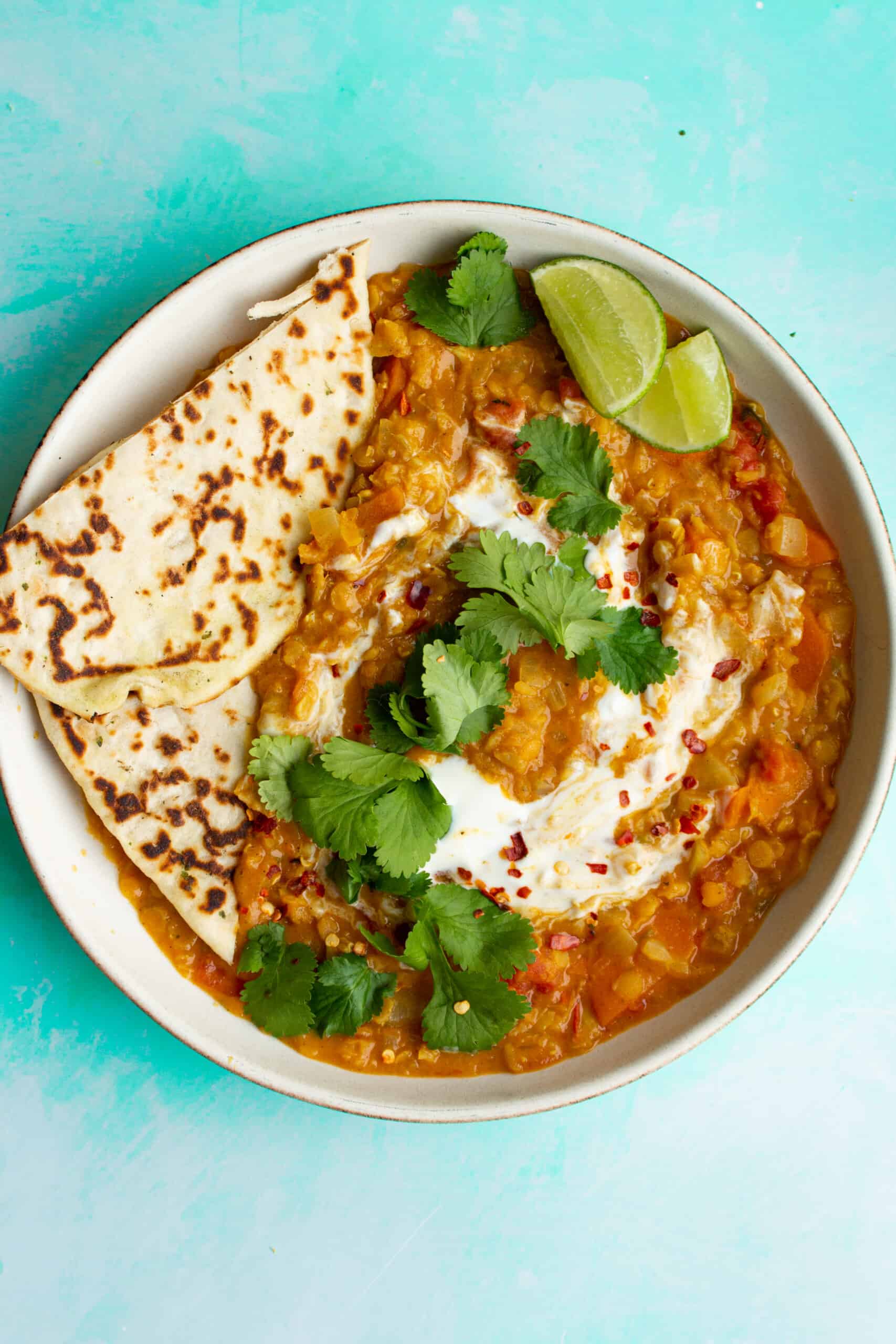 FAQ
Can you make it ahead of time?
Yes definitely! As I've mentioned, it's perfect for meal prep as you can make this big batch and store in the fridge for up to 5 days.
Can I freeze it?
It's also freezable so you can pop a few portions in the freezer to scatter the meals over the next few weeks.
Can I use green lentils?
Yes you can substitute with any type of lentil (although my favourite is red for this recipe). The colour & end result will obviously be different, but the taste will still be amazing. If you use canned lentils over dried lentils, reduce the stock significantly as these are already cooked so they'll absorb less water.
Did you enjoy this recipe?
Other recipes with red lentils
This red lentil dahl recipe is whipped up in under 30 minutes. It's easy to make as it has minimal ingredients (but so much flavour)! The recipe is vegan thanks to the coconut milk.
2

medium white onions, finely chopped

(£0.18)

5

garlic gloves, minced

(£0.69/3)=(£0.23)

40

g

fresh ginger, roughly peeled & grated

(£0.50)

3

carrots, sliced into thin moons

(£0.29)

1

tin chopped tomatoes

(£0.28)

1

tin coconut milk

(£0.79)

1

bunch fresh coriander, torn with stems finely chopped

(£0.50)

1

lime, ½ juiced + wedges to serve 

(£0.20)

200

g

red lentils

(£1.15/2)=(£0.58)

5

mini naan bread

(£1.10)

Optional - serve with a dollop of yogurt
Cupboard Essentials
750

ml

veggie stock

1

tbsp

coconut oil

1

tsp

cumin

1

tbsp

curry powder

1

tsp

turmeric

Salt

Optional chilli flakes
Start by sautéing the onions in a large saucepan with a tbsp of coconut oil and a generous pinch of salt (olive oil will also work fine). Gently fry for around 5/6 minutes or until they are translucent.

When the onions are translucent, add the garlic, ginger, coriander stalks, carrots and spices. Fry for another 2 minutes before adding the veggie stock, chopped tomatoes, coconut milk and lentils.

Stir to combine and reduce the heat to a simmer and cook for around 30 minutes. Add salt to taste.

Stir in the juice of half a lime & serve each portion with an optional swirl of yogurt & a sprinkle of fresh coriander. Finish off with a squeeze of lime and fresh coriander to serve.