Why you'll love this recipe
Typically, you think of beef udon in a soup format. While delicious, I typically only enjoy udon noodle soup during colder months. This recipe for udon noodles with beef provides a delicious twist you can enjoy year-round, regardless of the weather.
I've packed this beef udon stir fry dish with vegetables to up the intake of nutrients, vitamins and minerals. The thinly sliced beef strips help increase the protein, whilst the udon noodles help you stay full after enjoying this meal. 
This beef udon recipe is incredibly flavourful, offering a sweet, salty, savoury and slightly spicy taste. The ease of making this dish and the short prep time and cooking time make this a great meal prep recipe. 
If you're cooking for your partner, you can easily double this udon beef stir fry and have lunches ready for both of you for the entire week!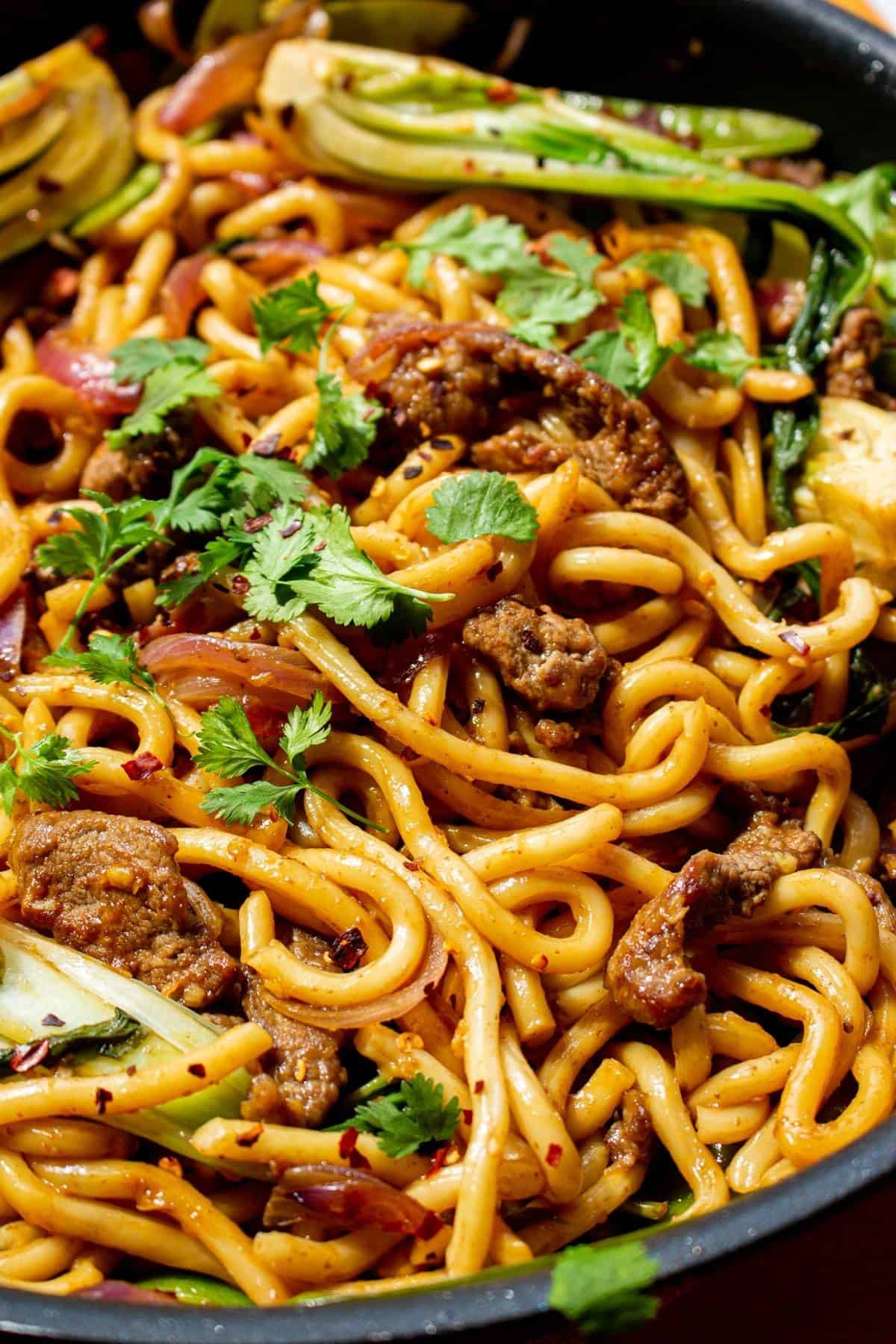 What are udon noodles?
Udon noodles are delicious, chewy noodles that originated in Japan. These thick, chewy udon noodles are made from wheat flour, water and salt. Udon noodles are a staple in Japanese cuisine, as they're made into many recipes such as beef udon soup, beef yaki udon stir-fries and more. 
There are a few varieties of udon noodles, either flat or rounded. Each type of udon noodle has a specific purpose, depending on its shape. For example, some udon noodles are better for slurping due to their shape, so they're served in a hot broth (like dashi broth).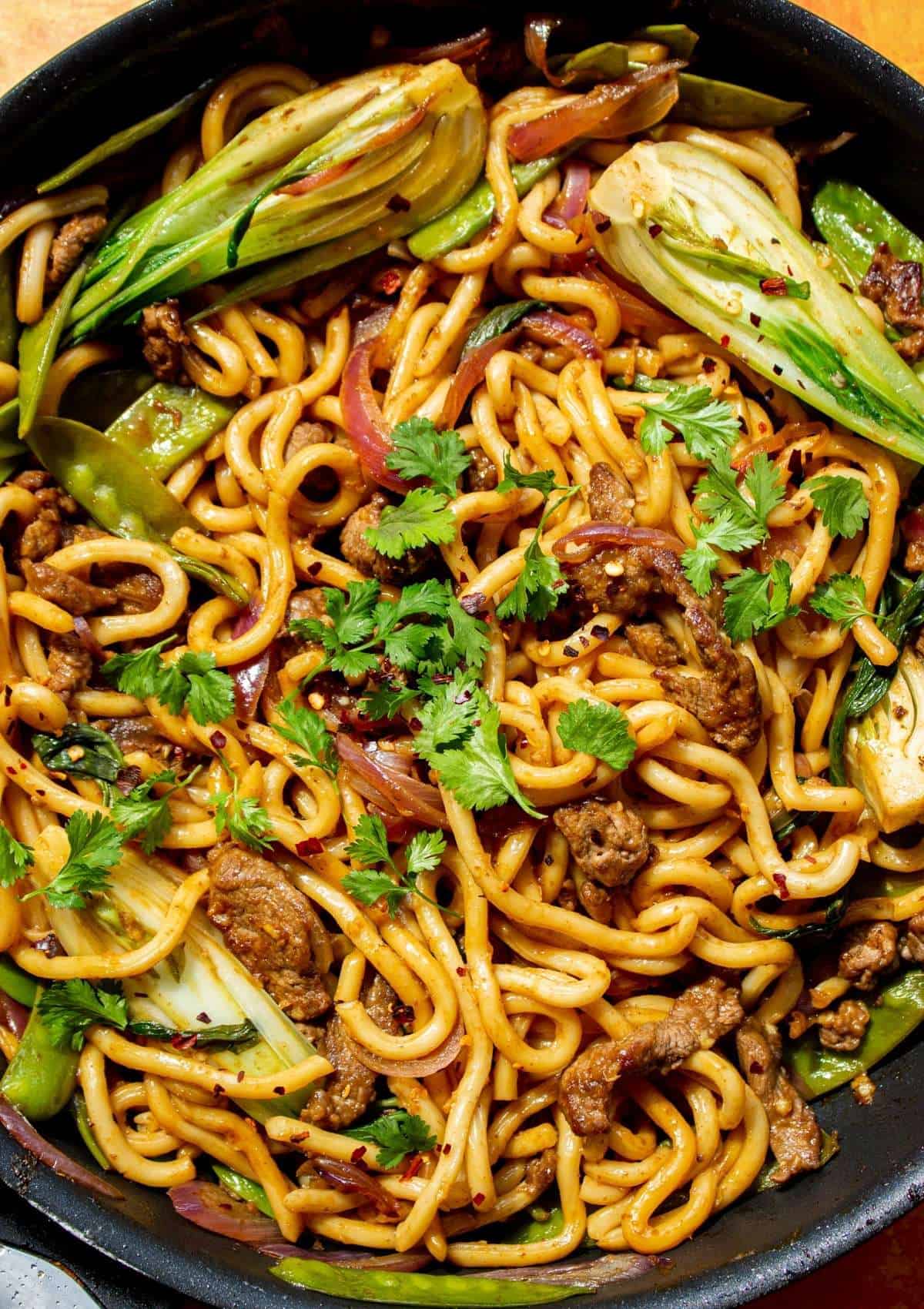 Where can I buy udon noodles?
Most supermarkets carry udon noodles in the Asian section, near other available noodle varieties. If your local store doesn't carry udon noodles, you can also find them at Asian or Japanese markets. 
If all else fails, you can easily order udon noodles online and have them delivered to your door, so you can create beef udon (aka beef yaki)!
Ingredients
Udon Noodles
Udon noodles help make this beef udon noodles dish more filling! If you can't find udon noodles, soba noodles will also work. Alternatively, you can use pasta, though the consistency and flavour will be slightly different.
Beef Tenderloin 
I love adding beef tenderloin to this recipe as a source of protein. You can also use chicken, pork, tofu or any protein you have.
Ginger 
Ginger is one ingredient that adds a lovely flavour and aroma. 
Garlic 
Like ginger, garlic adds a yummy aroma and helps provide the flavour base for this dish. You can always use powdered garlic, though the flavour will be stronger with the powdered form.
Red Onion
Using red onion also helps boost the flavour and adds a slight spiciness to the recipe. 
Pak Choi 
Pak choi, also known as bok choy, boosts nutrients in this dish. Its flavour is similar to cabbage, so it absorbs the other seasonings and sauces well.
Mange Tout 
Mange tout is one of my favourite ingredients to add to steak udon. It adds a nice slight crunch to the dish and is nutritious!
Coriander 
Fresh coriander is the perfect complement to this dish. It adds a refreshing, citrusy flavour that helps brighten up this yaki beef dish.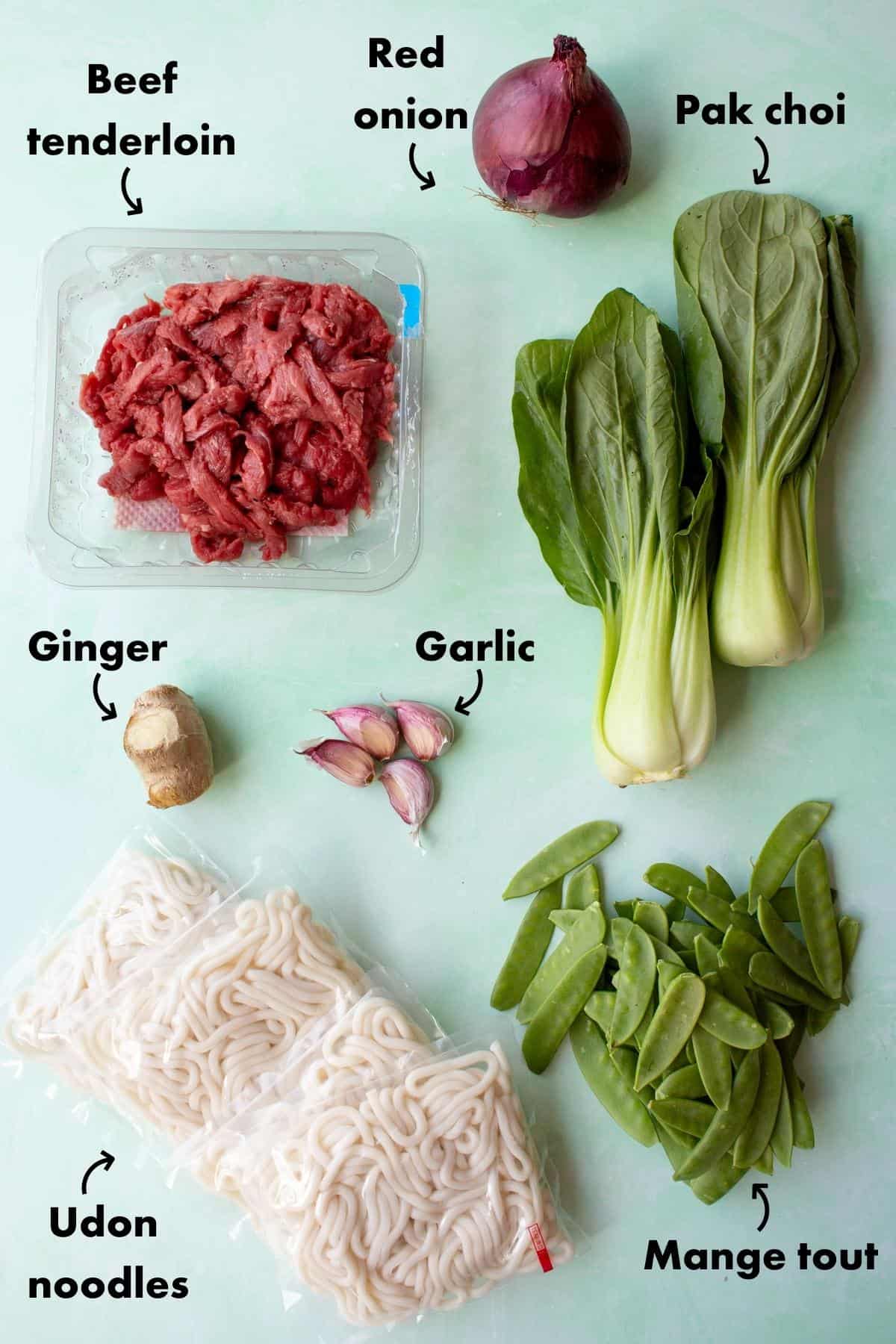 How to make beef udon stir fry
Start the udon beef dish by adding the beef strips into a large bowl and tossing with cornflour until well-coated. Then, add half of the rapeseed oil into a pan and heat it on high heat. Once the oil is hot enough, transfer half the beef into the pan. Cook the beef for about two minutes on each side, ensuring you flip halfway through.Once the first batch of beef is ready, set it aside and continue with the second half of the beef. Set all the cooked beef aside once fully cooked and sprinkle salt over the top.

Continue the chow udon recipe by adding the second half of the rapeseed oil to the pan. Next, add the mange tout and onion, sprinkling salt and chilli flakes. Saute these ingredients until they soften (a few minutes).

Then, add the thick udon noodles in a layer and top with the pak choi. Add a tablespoon or two of water, cover with a lid, and decrease the heat to medium. The noodles should take about four minutes to separate (without breaking into smaller pieces).

Finally, add the sauces into the pan, including the soy sauce, sweet soy sauce, rice vinegar, and an extra pinch of salt. Give the pot a good stir to ensure the flavours are incorporated well. When serving, you can add a helping of broccoli and some fresh coriander to help boost the nutrient content. If you're meal prepping this beef udon noodle recipe, separate it into five servings. Then add broccoli and fresh coriander to each container.
Tips and Tricks
Avoid crowding the pan when frying the beef. We want each piece of beef to have enough room to fry without steaming the other pieces. This would prevent browning and reduce flavour.

Fry the beef on high heat for a short amount of time. This will maximise browning and prevent overcooking.

Don't try to separate the udon noodles before they have been steamed within the pan. This will cause them to break apart.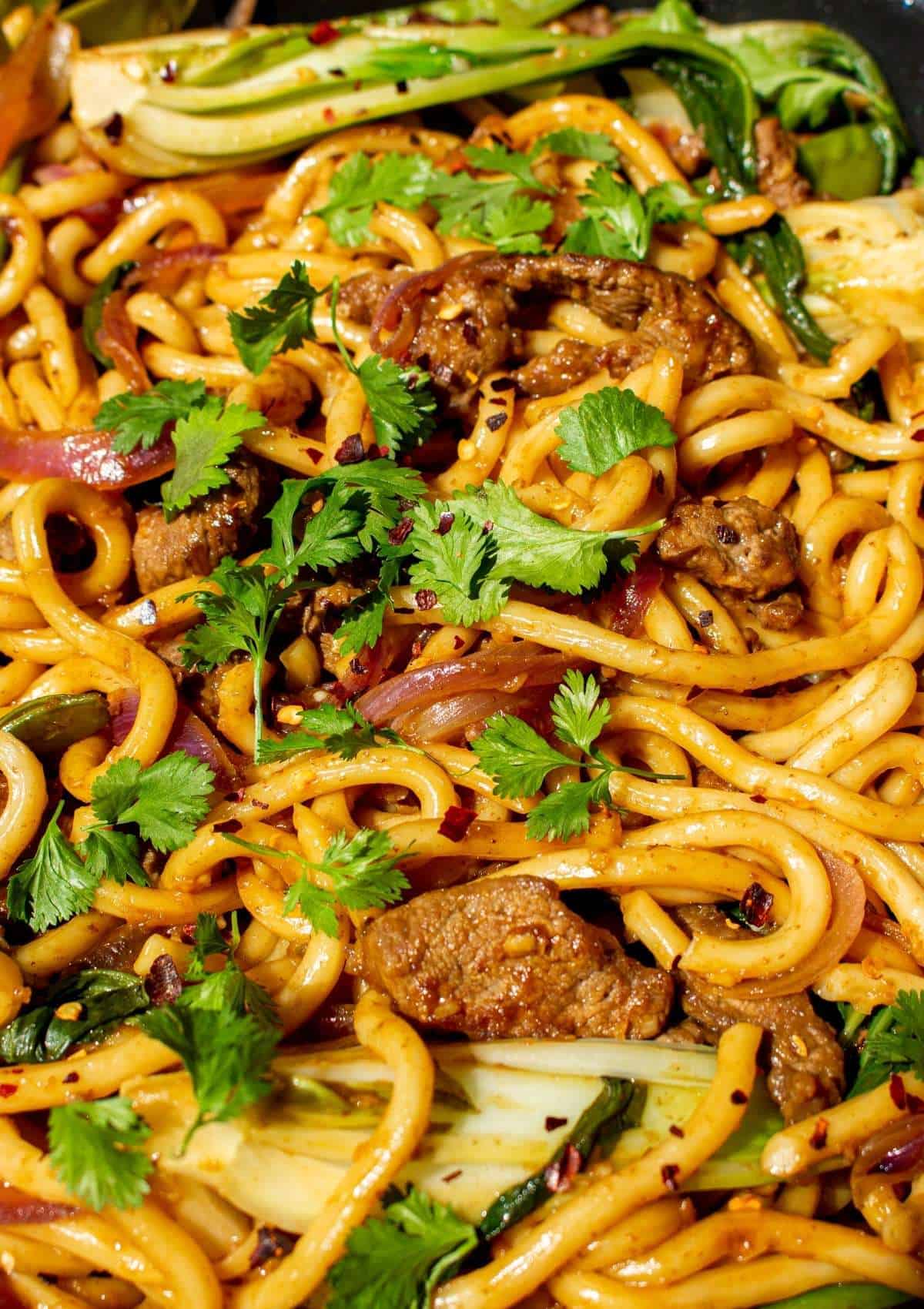 Other udon recipe ideas
Substitute the beef for tofu for a vegan/vegetarian-friendly version. You can also make a pescatarian version by using shrimp or fish. The other ingredients are already vegetarian/vegan/pescatarian-friendly.
Other udon recipes to try 
Beef Udon Stir Fry
You can whip up this beef udon recipe in under 20 minutes! Flavourful and nutrient-packed, you'll love this recipe!
350

g

beef tenderloin, stir fry strips

(£3.95)

160

g

mange tout

(£1.00)

1

large red onion, thinly sliced

(£0.15)

600

g

Udon noodles, 2 packs (4 sets of noodles)

(£1.00x2)=(£2.00)

1-2

tbsp

ginger

(£0.50)

3-4

garlic cloves,

(£0.39)

2

bulbs of pak choi, sliced lengthways into quarters

(£1.00)

1

bunch coriander

(£0.55)

Serve with extra broccoli, in meal prep containers

(£0.55)
Cupboard Essentials
Salt

2

tbsp

soy sauce

3

tbsp

sweet soy sauce

1

tbsp

rice vinegar

2

tbsp

rapeseed oil

1

tbsp

cornflour

Optional chilli flakes
Start by coating the beef evenly in cornflour. Mixing well in a large bowl.

Add half of the rapeseed oil into the pan and increase the heat to high. Evenly distribute half of the beef across the pan and fry for 2 minutes on each side.

Repeat with the second batch, setting the beef aside. Season with salt.

Next, add the remaining rapeseed oil into the pan, along with the mange tout and onion. Season with salt and chilli flakes and fry for a couple of minutes.

To that, layer the udon noodles into the pan, then the pak choi. Add a splash of water into the pan and cover with a lid, reducing the heat to medium. Leave to cook for 4 minutes, or until the noodles are loose enough to separate without breaking.

Remove the lid and add the beef, soy sauce, sweet soy sauce, rice vinegar and an extra pinch of salt. Stir to incorporate all of the flavours. Serve with a sprinkle of optional coriander and a serving of broccoli.