Why this recipe works 
When thinking of making a vegetarian Caesar salad recipe, I thought it would be super hard to replace the powerful flavour of parmesan.  That was until I remembered my favourite cheese – Halloumi. Like parmesan, halloumi is salty and strong so I knew with this substitute there would be no lack of flavour. The creamy, lemony, garlicy caesar dressing pairs perfectly with this halloumi salad, balancing out the intense, salty flavours of the halloumi. Now vegetarians can enjoy the best type of salad!
The Caesar dressing is stripped back using standard cupboard ingredients/ common foods that you'll have laying around. It's made with only 5 ingredients, so you get loads of flavour with minimal costs & effort!
Ingredients
Halloumi 
I've chosen reduced-fat halloumi,  as I find that the texture and taste is very similar, so it enables us to enjoy more cheese per portion whilst keeping the calories down. 
Mayonnaise
Hellman's mayo is obviously my go to here, no other brand competes in my opinion. I find the flavour of low-fat may isn't as great and as the mayo is a huge element of the Caesar dressing, we don't want to compromise on flavour. 
Spring onions
A nice contrast against the creamy vegetarian Caesar dressing. 
Cherry tomatoes
Not traditional, but I love the sweetness and the burst of flavour that these tomatoes add to the halloumi salad. It adds brightness to a recipe that is quite rich. 
Garlic 
When minced and combined with salt and some pressure, we get the best garlic paste to flavour our Caesar dressing. 
Wholegrain Mustard
You could also substitute with Dijon mustard, however I love the taste, texture and look of wholegrain.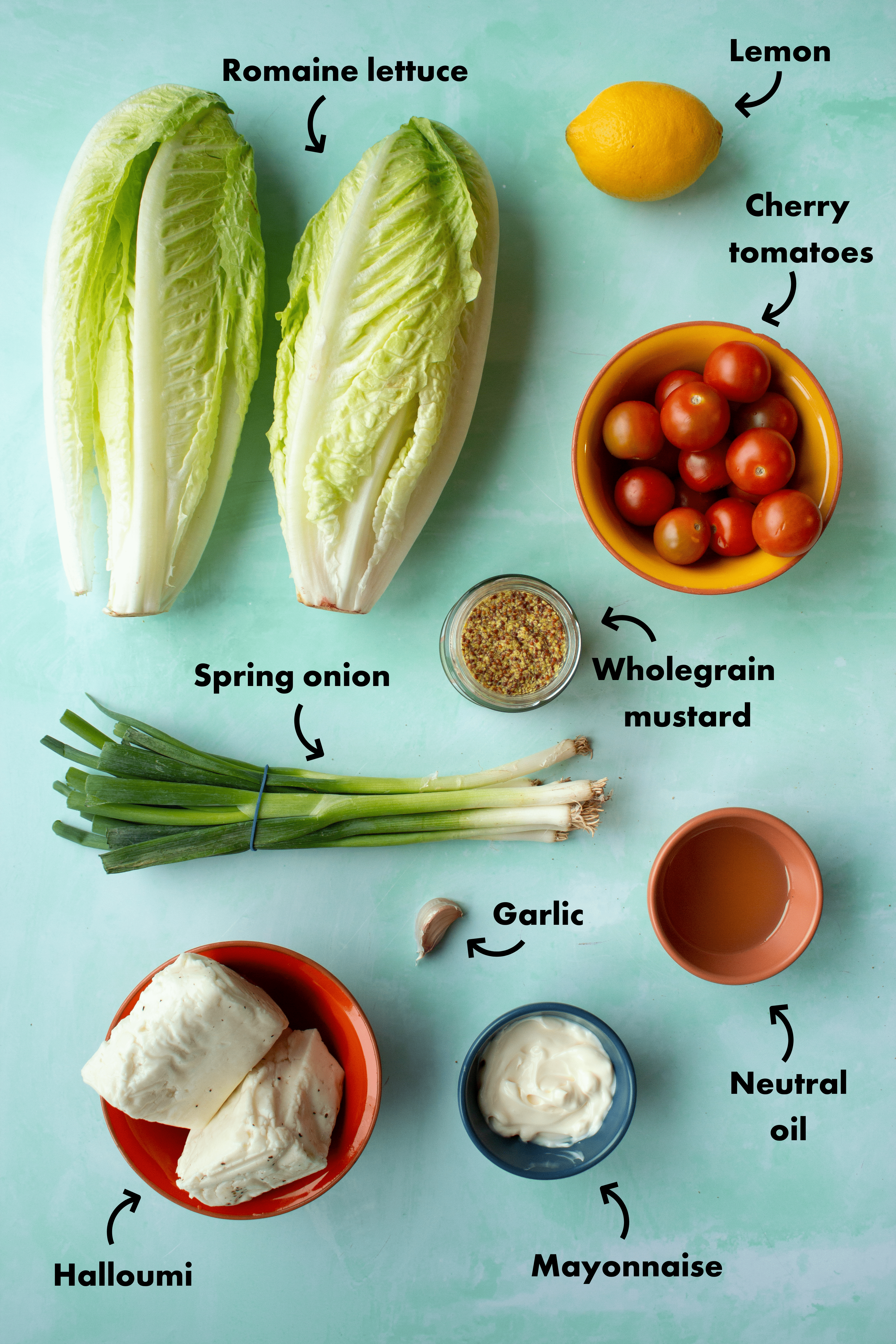 FAQ
How can I make this recipe for meal prep?
 Yes you can! Simply prepare the ingredients (slice the lettuce/tomatoes, fry the halloumi, make the dressing) and store the elements of the salad in separate containers. We don't want to combine the ingredients with the dressing ahead of time or the lettuce will turn soggy. 
Can I use full-fat halloumi?
Of course! I've just opted for low-fat to keep the calories down whilst having lots of cheese for each portion. 
Can I use low-fat mayonnaise?
You sure can. I find the flavour to be quite different which is why I've opted for full-fat. 
Other Halloumi recipes 
The Best Toast Ever: Halloumi and Avocado Sourdough Toast
Other salad recipes 
Panzanella Salad with Halloumi
Budget Green Goddess Salad (Viral Tiktok Recipe)
This Caesar salad is a twist on the classic, as it is vegetarian with the use of halloumi. Whipped up in 10 minutes with so much flavour.
Cupboard Essentials
2

tbsp

mayo

4

tbsp

neutral oil

1

tsp

wholegrain mustard
Start by chopping the lettuce then adding it to a colander to rinse. After rinsing, I wrap the lettuce in a clean tea towel & pop it in the fridge so it tastes super fresh and cold when it's time to eat.

After you've done this, it's time to fry the halloumi. Slice the block of halloumi into small square pieces and add to a frying pan with a tbsp of olive oil. Rotate the pieces after around 3 minutes or until they have browned nicely. Once cooked, set aside whilst you prep the rest of the sally ingredients.

To make the dressing, finely chop the garlic then add a pinch of salt onto it. Using the side of your knife, apply pressure to form a paste and repeatedly chop. The salt will act as an abrasive to help get that smooth texture, you don't wanna munch on a piece of raw garlic (this time).⁠

Then it's time to combine the garlic paste, mayo, lemon juice and mustard in a mixing bowl with a whisk. Once these have come together, sloooooowly drizzle in the oil whilst vigorously whisking. This will give it time to emulsify and become one smooth, beautiful Caesar.

Chop the tomatoes and spring onions so they're ready to go into the salad.

Now it's time to assemble the salad by stirring the Caesar dressing into the cooled lettuce. Pop the tomatoes & spring onions into the mix & lay the halloumi on top. Garnish with some pine nuts and lots of black pepper and you're good to go!