Why this recipe works
This mushroom and leek pie is an example of how you can take a traditionally meaty dish, make it vegetarian and it still be equally delicious and enjoyable. There's an array of comforting veg which might have you thinking, how can I squeeze this many ingredients into one veggie pie. This pie recipe is packed with sooo much nutrients whilst still being rich, creamy and indulgent. The fact that there's aubergine in this mushroom and leek pie is pretty rogue but I think the aubergine cubes act as an almost meat substitute. Once we brown the cubes, they take on an intense flavour that contrasts against the creamy sauce within the vegetable pot pie beautifully.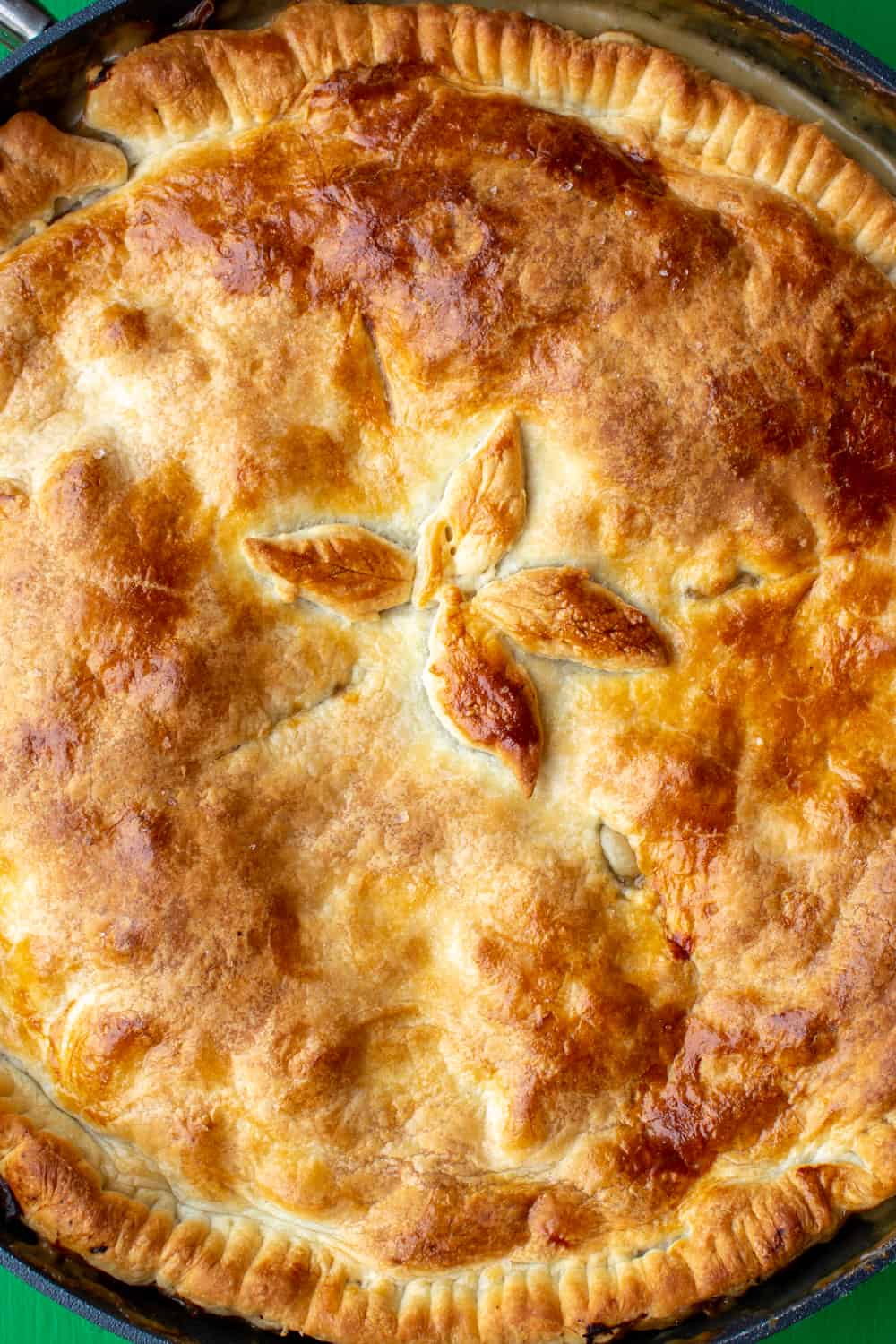 Ingredients
Mushrooms
I opted for chestnut mushrooms in this veggie pie as they're cheap and more flavoursome than your standard button/white mushrooms. They are also more nutritious. 
Leeks 
The combination of leeks and butter, sweating over a low heat, creates the most comforting base to start this veggie pot pie on a high. 
Aubergine 
The perfect smoky contrast against the rich and creamy sauce. 
Cream 
I use standard single cream in this recipe but if you'd like to make this into a vegan pot pie recipe, feel free to swap with a plant-based cream. 
Thyme 
Adds the most comforting, wintery vibes to the pie. You can sub with rosemary if you have that instead. 
Garlic 
You can't have a creamy pie recipe without a loooot of garlic. 
Peas
The best low maintenance veg that can be thrown into the pie without any preparation. 
Puff Pastry 
As we're putting in a lot of effort into the filling of this pot pie, we are taking the short-cut of buying pre-made, rolled puff pastry. Let's leave the pastry making to the professionals.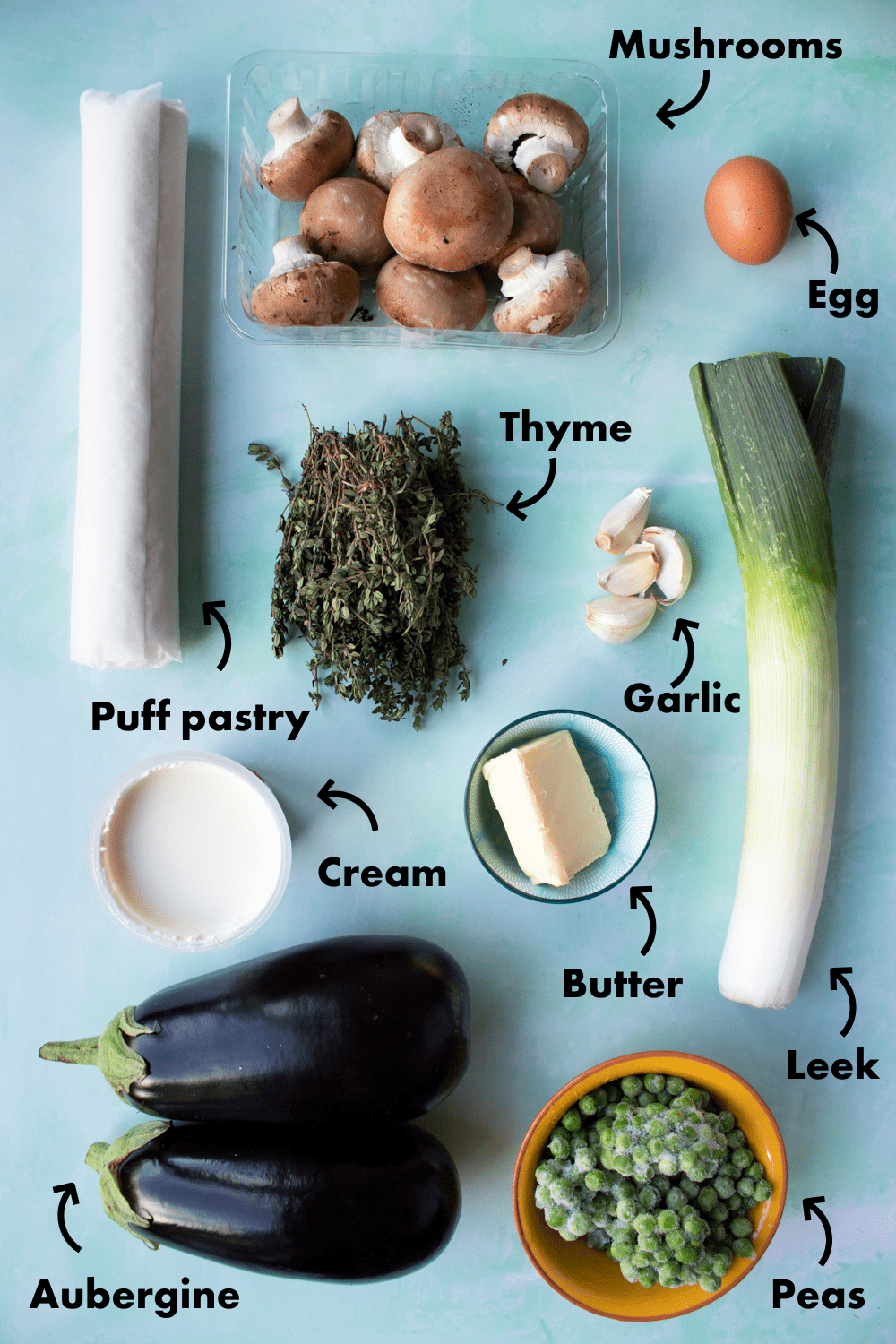 What other vegetables could I use?
This vegetable pie could be filled with so many different vegetables. Any of the following would work well: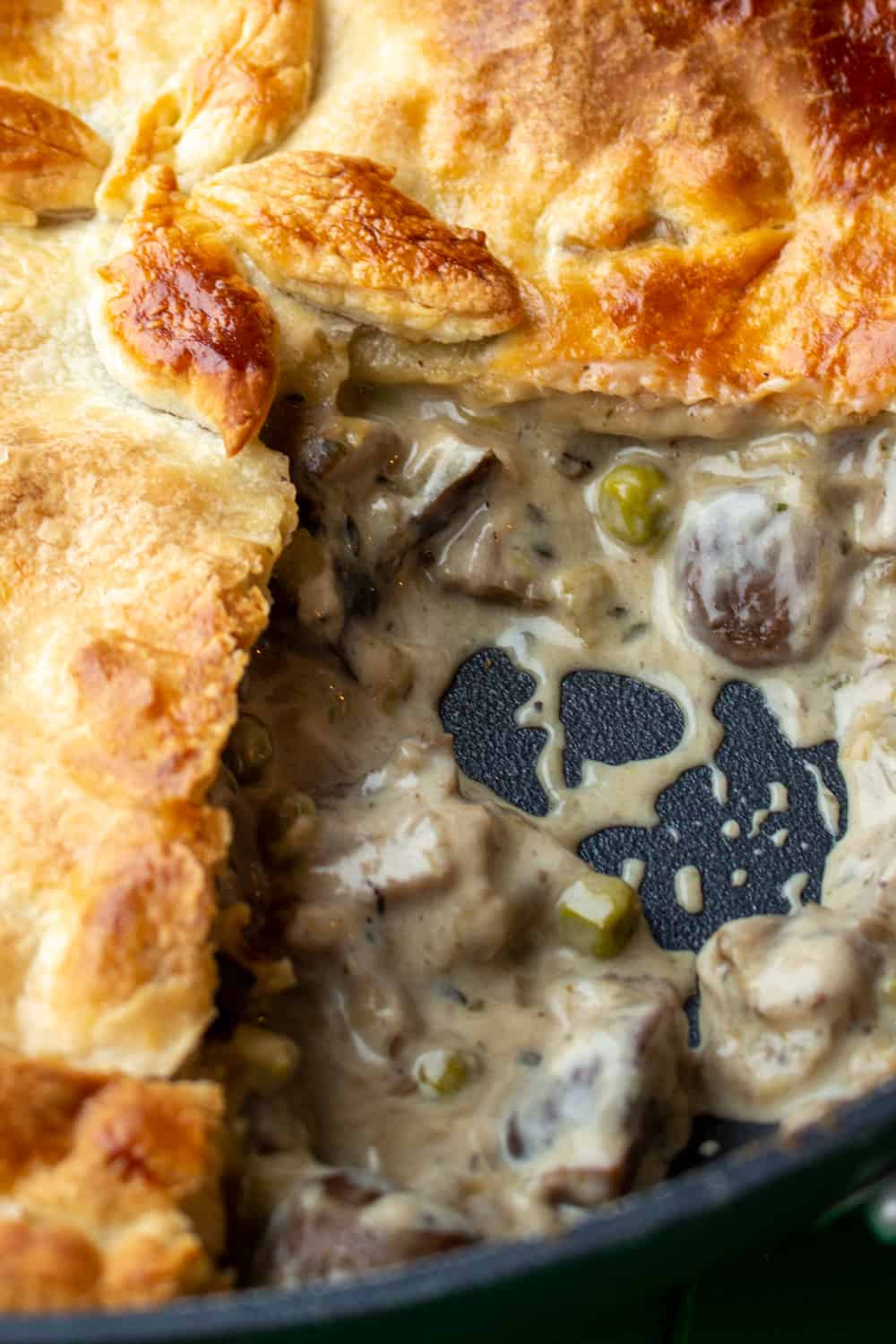 FAQ
Can I freeze this veggie pot pie?
You can freeze this recipe at the point of adding the filling and placing the puff pastry on top, before adding to the oven. When it's time to eat, defrost and coat with the egg wash before following oven instructions.
Can I make this recipe vegan?
Yes definitely! I'd swap the cream for something like elmlea single plant-based cream (not sponsored). Your favourite vegan butter to substitute the butter we use to sweat the leeks in and finally, I'd swap the egg with a plant-based milk like unsweetened almond milk to allow the puff pastry to get that golden glow.
Can I switch the leeks with another ingredient?
Yes you can substitute the leeks with 1-2 thinly sliced white or red onions.
Try this delicious Creamy Mushroom, Leek and Aubergine Pot Pie topped with flaky pastry. It's one pot, comforting, satisfying and packed full of tasty veggies.
500

g

chestnut mushrooms

(£0.80x2)=(£1.60)

Bunch of fresh thyme

(£0.50)

2

aubergines

(£1.40)

1

large leek

(£0.38)

2

tbsp

butter

(£1.49/4)=(£0.37)

2

handfuls peas

(£0.61/4)=(£0.15)

4

cloves

of garlic

(£0.39)

200

ml

cream

(£0.80)

1

egg

(£0.75/6)=(£0.13)

Premade puff pastry

(£1.30)
Cupboard Essentials
1

tbsp

olive oil

600

ml

vegetable stock

1

tbsp

soy sauce

Salt & Pepper

1.5

tbsp

cornflour
* Roll the pastry out so that it covers your skillet with a few inches to spare. Set aside in the fridge.
Fry the mushrooms in batches in the large oven-safe skillet that you will be using for the pie and fry on a high heat with a tbsp of olive oil. By frying on a high heat, without stirring frequently, the mushrooms will brown & therefore provide a much better flavour. At this point add some salt to the cubed aubergines to draw out the excess moisture.

Set the mushrooms aside and reduce the heat to low in your skillet. Add the butter & leeks to sweat for around 8 minutes on a low heat until they are glossy & soft.

Then add the fresh thyme and aubergines (squeezed with a clean tea-towel of their excess liquids) into the pan and continue to fry for around 8 minutes, adding the garlic for the final minute to fry. The browned mushrooms can be thrown back in the pan at this stage. * I accidentally added the garlic before the aubergines in this video – pls ignore and do the order stated in the text.

Next, add the stock and soy sauce and bring up to a low simmer for another 5 minutes. Then, add the cornflour paste (cornflour + a few tbsp of water combined) to the pot and stir until the sauce thickens. At this point, kill the heat, leave to cool a little and stir the cream into the pot. If the liquid is still boiling/really hot, the cream will split so be wary of this. Season with lots of black pepper and additional salt to taste.

Lightly dust your rolling pin with flour and gently roll the chilled pastry onto it. Then, spread the pastry over the pan and trim the edges leaving 1 inch around the circumference of the pan. Tuck the excess pastry under and crimp the edges with a fork (or fold artistically if you've got pastry skills). Lightly coat with egg wash & pop in the oven for 20-25 minutes, or until golden brown.