What makes this recipe great
This lemon chicken tray bake with thyme is delicious, requires minimal effort and works perfectly as a weeknight dinner. 
The oven does most of the work for you, as you prep the ingredients and add them to the tray at two different points. Meaning you can chill out and watch Netflix, as your delicious meal comes together. 
I find with a chicken and potato tray bake, you need vibrant veggies, herbs and some acidity to bring the recipe to life. 
That's why with the addition of roasted lemon, thyme and the mediterranean combo of tomato and red onion, we get the best outcome.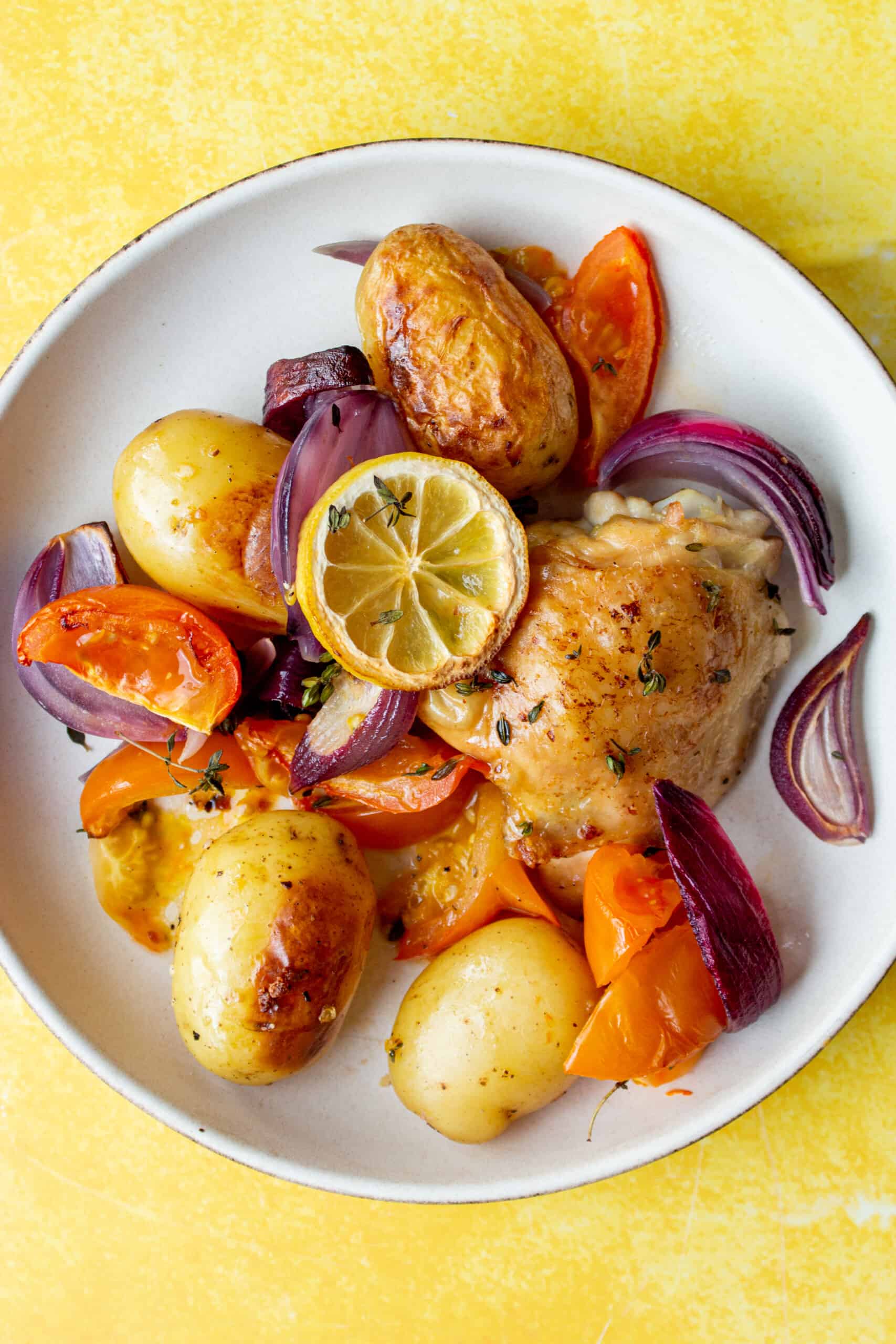 Other chicken tray bake dinners/recipes you might love…
Spiced Chicken and Cauliflower Tray Bake with a Raita Sauce
Creamy Lemon and Thyme Chicken Tray Bake
Ingredients
Chicken thighs
Oven baked chicken thighs are amazing for two reasons. The crispy skin that forms when roasted over a longer period of time and the succulent meat that becomes intensely flavoured due to it's fat content and being on the bone. 
Lemon
It wouldn't be a lemon chicken tray bake without a good quantity of lemons. I use two whole lemons in this recipe, sliced into 1 cm rounds. When these lemon rounds are roasted, overtime they almost caramelize and sweeten, meaning you can even eat the skin! 
Thyme
I've chosen thyme for this recipe, as I love it when it's paired with lemon. You could alternatively use parsley or basil, served fresh at the end if you prefer. 
New Potatoes 
I use new potatoes to reduce prep time and also as I love their texture and skin-to-potato ratio. We coat them in oil and garlic and roast them for 1 hour and 15 minutes, which make for the crispiest potatoes. 
Garlic 
6 cloves of garlic – don't be skeptical, this tray bake recipe needs it. It serves 5 people and I follow the general rule of thumb for 1 clove per portion.  Plus a bonus clove. 
Tomato & Red Onion
The tomato and red onion add a mediterranean chicken tray bake vibe, which brightens the dish massively.  
Is this a healthy chicken tray bake recipe?
I'd say so! This recipe is balanced in many ways. 
Elements of a healthy tray bake:


Range of micronutrients: we get this from the lemon, tomatoes, onion and olive oil.




 

High in protein: chicken thighs are a great source of protein.

Balance of carbs, fats and protein: carbs from the potatoes and veggies, fats from the olive oil and chicken thighs and protein again from the chicken thighs. 
If you wanted to reduce the calories, you could make this a chicken breast tray bake as this would reduce the fat content. However, chicken breast often dries out in the oven. 
If you do decide to use chicken breast though, add the chicken at a later stage (maybe along with the tomatoes and onion) as they only take around 30 minutes to make in the oven. 
How to make this recipe
Preheat the oven to 180° C
Wash the new potatoes and add to a large mixing bowl.  Add the minced garlic, olive oil, salt and pepper and mix together, before placing on baking tray.
Now remove the excess skin on the chicken thighs and add to the same bowl.  Add some olive oil, salt and mix together.
Now add the chicken thighs to the baking tray with the potatoes.   Cook the potatoes and thighs for 30 minutes before removing from the oven.
Prep the veggies  by quartering the red onions and tomatoes and slice the lemons into rounds. Add them to the baking tray with part cooked potatoes and chicken. Rub the thyme between your hands over the tray so the herb breaks off the stem and scatters over the tray bake. Shake and pop back in the oven for another 45 minutes.
Remove from the oven and plate up!   Season with salt and pepper and an extra squeeze of lemon.
This chicken thigh and potato tray bake is infused with lemon and thyme. A perfect dinner tray bake with only around 10 minutes of prep time.
Preheat oven 180° C
1

kg

chicken thighs

(£1.79)

1

bunch fresh thyme, removed from tough stems

(£0.48)

2

lemons, sliced into 1cm rounds

(£0.99)

2

red onions, sliced into thick wedges

(£0.69/3x2)= (£0.46)

6

tomatoes, sliced into thick wedges

(£0.65)

1

kg

new potatoes

(£0.85)

6

cloves

of garlic

(£0.10)
Cupboard Essentials
2

tbsp

olive oil

Salt & Pepper
Preheat the oven to 180°C
Wash the new potatoes and add to a large mixing bowl.  To that, add the minced garlic, half of the olive oil, salt & pepper. Mix to combine and add to a large baking tray.

To the same bowl, add prepped chicken thighs & remaining olive oil. Season generously with salt and pepper and toss to evenly distribute. Add the chicken to the tray with the chicken thighs and pop in the oven for 30 minutes.

After this time, add the vegetables and thyme to the baking tray. Use tongs to get the veggies coated in the oils released from the chicken. Shake and pop back in the oven for another 45 minutes. Season with an extra round of salt.

Remove from the oven & plate up! Season with pepper & optional chilli flakes if you like a little kick.