5 Best Ramen Bowls to Cosy Up With This Winter
I've rounded up my favourite ramen bowls on Beat the Budget. Like spicy ramen noodles? We've got it. Want a creamy, rich ramen? You're in the right place. With the vast range of ramen recipes, you're guaranteed to find one that's right for you. The hot & steamy broth accompanied with the filling noodles makes this the ideal dish for autumn/winter. Simple yet versatile, we have ramen recipes for vegans, vegetarians or with meat! We've got creative, so you don't have to mix up your noodle game with these 8 ramen favourites.
The chicken ramen
So simple and flavourful, this saucy Chicken Satay Ramen is a true favourite of mine. It's like we're combining the best elements of chicken satay skewers with the best elements of ramen bowls. The coconut milk adds a rich creaminess along side the nutty peanut butter. This dish will take you just 25 minutes to make and with 5 portions in this recipe, it's perfect for meal prep. It's creamy, it's zesty and the satay peanut twist makes it unforgettable.
The veggie ramen…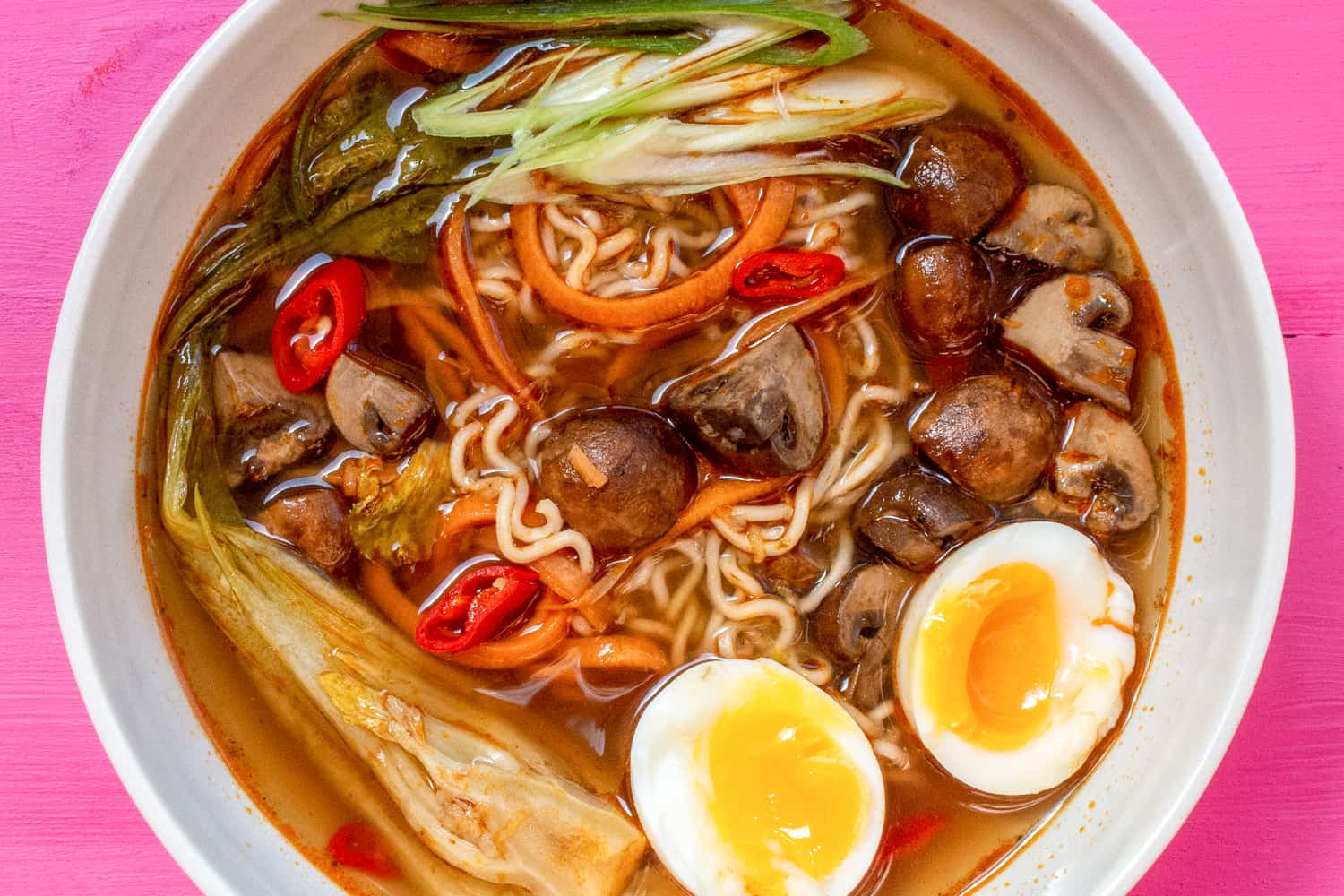 When you want to make a vegetarian ramen that is easy but looks expert, our Slow Cooker Vegetable Thai Ramen is the way to go. A tasty and easy vegetarian ramen dish with minimal effort, as the slow cooker does all the work. Packed with a variety of vegetables with a sauce saturated in spices. This dish is both healthy and full of flavour and at £1.00 a serving what's not to like!
The pork ramen…
This saucy Gochujang pork ramen is perfect if you like a bit of spice! The Korean Gochujang paste adds a a little heat to make a delicious broth to go with the noodles, veggies and pork loins. This dish is set to impress and includes all the trimmings. You'll have a healthy mix of vegetables and proteins with the compulsory perfectly boiled egg to add depth, as well as add the aesthetic to this hearty bowl of spicy ramen goodness!
The vegan ramen…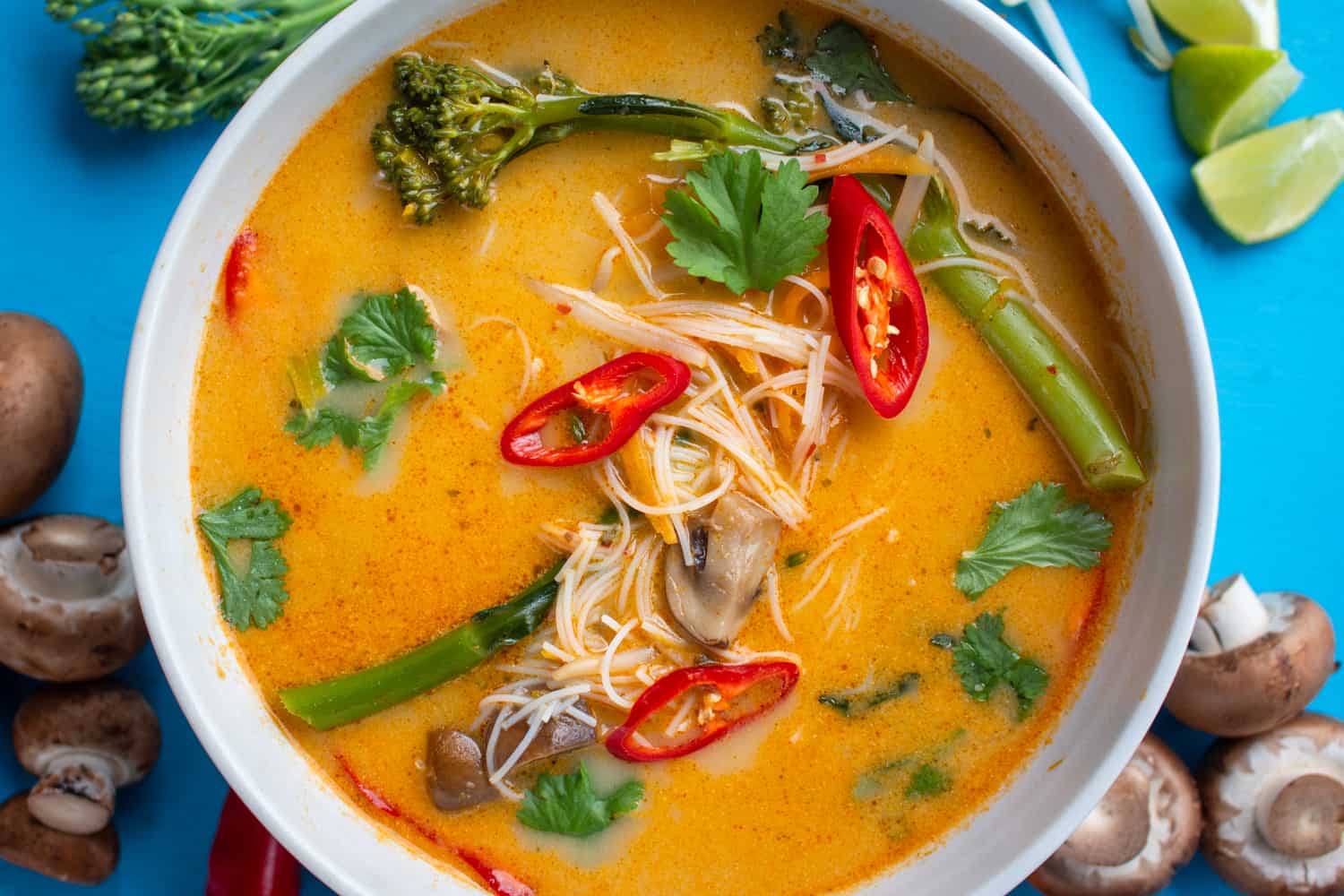 This creamy homemade spicy vegan ramen is delicious and easy to make. The Thai red curry base incorporated with creamy coconut makes the flavourful broth with minimal effort and the rice noodles we've switched in gives this ramen a lighter feel. This recipe allows you to cook everything in one pot and will be ready in only 30 minutes.
The Thai inspired chicken ramen…
Ok so technically I've called this ramen a noodle soup, but there was no way that I couldn't include this vibrant Thai chicken soup in the list. It's one pot, around £1 per serving and packed full of flavour from the spicy Thai curry paste, peanut butter and coconut milk. The chicken thighs are poached within the soup, which makes for the most tender chicken and the most flavourful soup! It's the perfect spicy upgrade to your standard chicken noodle soup, that'll warm you up.
Other blog posts…
Easy curry recipes you have to try
6 simple, delicious and cheap gnocchi recipes
The best warming autumnal soup recipes