Why this recipe works
The perfect healthy alternative to pizza: switching the dough base for some reduced calorie/ low carb courgettes offers a light and summery switch to your classic pizza. This dish is perfect for people wanting a low calorie/ nutrient-dense meal or just something a bit lighter for lunch. It's cheesy & saucy which makes the recipe still feel super indulgent. It includes antioxidant rich parsley and garlic along with some protein provided by the mozzarella. Let the sweet passata balance out the salty capers and olives to provide a burst of flavour with eat bite. And who doesn't love the addition of sun-dried tomatoes in any recipe? The combination of toppings gives us tuscan flavour vibes, which brings these courgette boats to the next level. This recipe is quick and easy to prepare, making it the ideal quick bite when you refuse to spend time faffing around.
Ingredients
Courgettes
The base for these pizzas is courgette, reducing the calories and adding lots of nutrients into the dish. If you prefer aubergine, feel free to substitute the courgettes with them. Here's a link to an cheesy baked aubergine dish I created a while back. 
Passata
The tomato base for these pizzas is brought together instantly with the combination of passata, onion powder, garlic powder, red pepper flakes and salt. If you only have chopped tomatoes, ensure that you cook them down to reduce the water content- this would cause your pizzas to be super soggy. For optimal results, blend the reduced chopped tomatoes for the perfect consistency.
MOZZARELLA
I opted for full fat mozzarella in this recipe as there is no need to reduce the calories further. The courgette bases are already super low in calories, so we have more of an allowance to spend on the cheese. This way we get all the nutrients and flavour that you get from full fat cheese over the low-fat alternatives. Yum.
TOPPINGS
The toppings here are very mediterranean and summery. The capers and olives provide a briny, salty tang to contrast against the cheese and tomato sauce. Whilst the sun-dried tomatoes add a sweetness to compliment the other flavours. You'll also find that when roasted in the oven the sun-dried tomatoes crisp up to form an almost bacon like flavour and texture, which is so so tasty. If you're into more of a spicy/pepperoni vibe, check out my other courgette pizza recipe here Spicy Pepperoni Courgette Pizzas
How to make this recipe
Place the courgette halves onto a baking tray. Remove the fleshy part of the courgette with a spoon to make hollows as this will also ensure the boats don't go soggy and to also allow space to add the sauce.
Save time chopping by using onion granules instead of raw onions, the garlic granules instead of fresh garlic and if you like red pepper flakes add a sprinkle to the passata and then season with some salt and pepper.
Spoon in the seasoned passata onto the courgette boats and make sure each boat is filled with the tomatoey sauce.
Now to decorate your pizza boats! Start by adding the torn black olives, capers and torn sun-dried tomatoes. Before you add the mozzarella, squeeze all the water out and pat dry (the mozzarella retains a lot of liquid) and you want to make sure you have a nice crispy, cheesy topping.
Add the remaining toppings before cooking in the oven for around 10-15 minutes or until the cheese is golden and crispy.
FAQ
How can I store the courgette pizza boats?
I wouldn't freeze this recipe as the courgette will go quite mushy when defrosted. You can store them up to 4-5 days in the fridge though.
Is this recipe gluten-free?
She sure is! No bread/classic base here which means it's completely gluten free.
Can I make this recipe vegan?

Yes, I'd recommend a vegan cheese that allows the desired 'cheese-pull' that you get with mozzarella. A vegan fave of mine is Violife.
Should this recipe have a side dish when eaten as a main meal?

You can eat it solo or pair it with a side salad. I think this recipe goes well with a handful of rocket to add a peppery contrast to the meal.
Why do I have to squeeze the mozzarella?

This will get rid of all of the excess moisture. Without doing this, a layer of water on top of the courgette boats will form in the oven, which will prevent the cheese from crisping up and turning golden brown. It will also cause a soggy pizza (=bad time).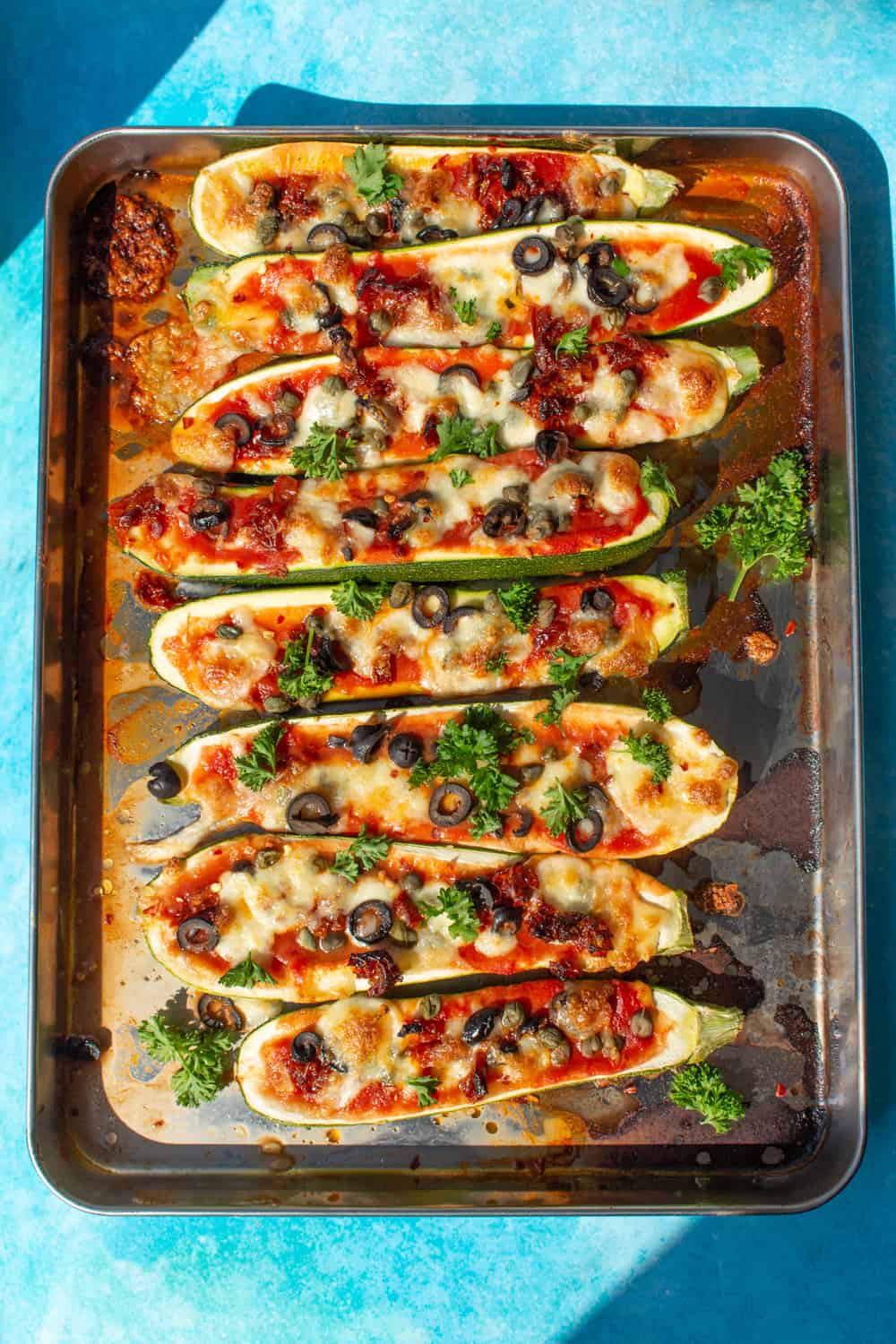 How to meal prep this recipe
Follow all of the instructions to make all four portions. Be mindful when making the full batch that your oven might heat your sheet tray unevenly (like mine), so I rotated the tray midway to ensure even browning/crisping of the cheese across all 8 courgette boats. Once cooled, the cheese will firm up. This will allow you to stack the courgettes on top of each other in your meal prep containers. When it's time to eat, add two courgette boats to a microwavable plate and heat for around 2 minutes on high. Consume within 4-5 days and enjoy! The perfect lunch/light dinner meal prep.
Love meal prep?  This recipe belongs to one of my exclusive weekly meal plans found in The Budget Club. Click here to check out what we have to offer!
Other courgette recipes…
Spicy Pepperoni Courgette Pizzas
Rocket Pesto Gnocchi with Charred Courgette
Other vegetarian tray bakes…
Baked Orzo with Halloumi and Roasted Mediterranean Vegetables
Try this low calorie alternative to a standard pizza. The sun-dried tomato, olive & caper topping adds a Mediterranean feel to this delicious courgette pizza.
4

courgettes, sliced in half

(£1.50)

500

g

passata

(£0.40)

50

g

sundried tomatoes, thinly sliced

(£1.90/2)=(£0.95)

30

g

black olives, thinly sliced

(£0.49)

3

tbsp

capers

(£1.25/2=(£0.62)

2

balls mozzarella, squeezed of excess liquid

(£0.49x2)=(£0.98)

Bunch of curly parsley, torn

(£0.50)
Preheat oven to 180°C
Using a spoon, remove the fleshy part of the courgette which will form the hollow area for the filling to go in.

In a mixing bowl, combine the passata with the garlic granules, onion granules, red pepper flakes (optional) and a pinch of salt and pepper.

Place the courgette halves onto a baking tray and spoon the passata into the hollows.

Add around half of the toppings onto the courgettes (the black olives, capers and sun-dried tomatoes), followed by the squeezed & torn mozzarella. Then, add the remaining toppings and pop in the oven for 10-15 minutes. Or until the cheese is golden and crispy. Serve with torn fresh parsley and enjoy!